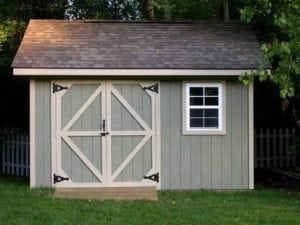 A well-appointed garden shed can be a great way to organize your tools, store gardening supplies and set aside a workspace for potting, seedlings, and other garden activities. Here are some great ideas to consider when thinking about your new log home's garden shed.
Location— Siting your garden shed is an important factor. Create a useful shed that's conveniently located, yet away from other back yard areas like decks, patios and swimming pools. From a practical point of view, locating the garden shed close to the main house will make wiring and plumbing easier to accomplish. Because it will be the first stop for your garden work, make the garden shed relatively central to flower beds and vegetable gardens.
Easy Access—Include a ramp at the entryway to allow your wheelbarrow and other wheeled appliances to roll in and out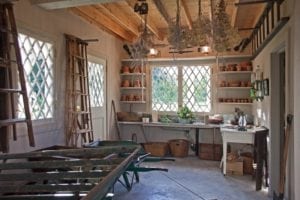 easily. Doorways should be wide enough for your wheelbarrow. Adding a double door can open up one side of the shed and make the interior a pleasant place to work on summer days. Though many sheds often sit on gravel or dirt floors, adding a floor can help keep the interior dry and comfortable year-round, as well as protect tools and seeds from rust and rodents.
Lighten It Up! — Include windows or skylights to allow natural light inside. If you install a single large window, you may be able to minimize the number of light fixtures you'll need to see inside. If your shed will be used to store rechargeable garden tools, like edgers, lawnmowers, and hedge trimmers, make sure you have plenty of convenient outlets near where these tools will be hung.
Potting Table— If your gardening includes lots of containers and potted plants, a potting table is a good choice. Make sure you've included shelves and a handy spot for potting soil so it's all within reach. If you plan to start seedlings, some racks with either natural light or grow lights might be a smart addition. If a deep utility sink is a must-have, combining the potting table with the sink can make clean-up and watering a breeze!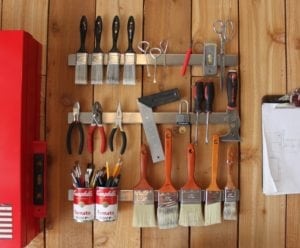 Hang It Up — Tools like rakes, hoes, edgers, and shovels can be hung from the walls to keep them organized and within reach. An oversized hook can keep your garden hose coiled neatly. Get creative with a pegboard system to hang smaller tools. Trace around each tool and label it so they'll return to the right spot every time. Install a strong magnetized knife holder and re-purpose it to hold smaller metal hand tools. Hang lighter weight implements on the back of the shed doors to maximize your storage space. Include a small blackboard to make note of key dates or to-do lists.
Clear the Clutter — Shelves and bins can provide a neat way to store all the items that make their way into your garden shed. A grouping of bins on lower shelves can hold potting soil, fertilizer, grass seed, or mulch. Middle shelves can take bins with seed packets, wire and string and smaller items. Use stainless steel commercial shelving for a long-lasting rust resistant storage solution.
There are many styles of pre-manufactured garden shed kits, when you're selecting one keep in mind the look of your home— it may make sense to apply some cedar log siding and stain it in a coordinating color.