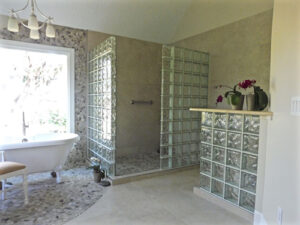 Glass blocks offer both a retro design as well as clean contemporary lines that enhance illumination and maintain privacy in your Katahdin Cedar Log Home. Most of us are familiar with the standard 8×8-inch blocks, with wavy or molded designs. But there are a multitude of options, styles, and even colors to play with!  
Benefits of Glass Blocks 
Glass blocks offer several benefits for homeowners incorporating them into a design. Here are some of the top plusses for glass blocks: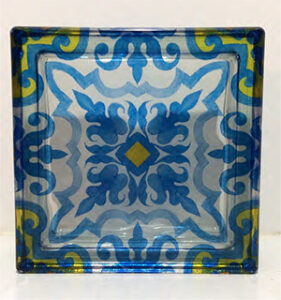 Energy Efficiency — Glass blocks rate on average about the same as a double pane glass window. They qualify for points in LEED or other green construction as they can provide an airtight barrier.
Daylight Illumination — Glass blocks allow natural light inside without sacrificing privacy and can be placed in walls, room dividers and even floors to allow light to penetrate dark areas.
Add Artistic Flair — With colors, shapes and even mosaic designs, glass blocks can tap your inner creativity and create a unique, magical space.
Protection — Glass blocks are a sturdy addition, and can be purchased hurricane or blast rated, to help ward off flying debris.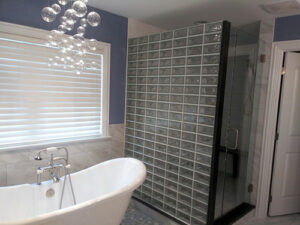 Some Things to Consider When Choosing Glass Blocks 
Glass blocks are heavy and may require additional engineering similar to a stone hearth. Selecting slimmer blocks for interior walls can reduce the necessity for structural reinforcement, but it's a good idea to alert the design team about glass block interior or exterior finishes.  
Also, because they are fixed windows, make sure you have extra ventilation available, especially in bathrooms! 
Where Can Glass Blocks be Used? 
Fill a wall in a bathroom or bedroom to allow light but maintain privacy. Shower enclosures are another excellent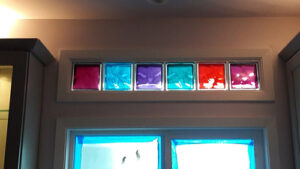 application for glass blocks. Mix and match colors or insert printed art glass to create a stunning bathroom focal point. For walk out basements, Glass block windows can add light to utility areas or bathrooms— just make sure you have egress windows available as well. 
Most local box stores carry glass blocks in the basic 4-5 designs. For something different check out Quality Glass Block and Windows for unique ideas and colors.