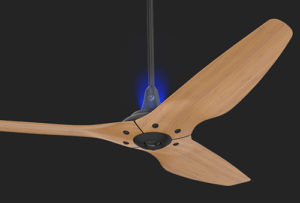 We've covered the highly efficient Haiku ceiling fans in previous issues for their clean good looks, remote operation and quiet, energy efficient design. Their parent company, Big Ass Fans, has developed technology to upgrade their fans with UV lighting that can eliminate bacteria, fumes and viruses, including the COVID -19 virus.
UV-C Light Disinfection
UV-C light has been known for its disinfection properties. Because it avoids irritating chemicals, bleach or alcohol for disinfection, it's used in large-scale disinfection projects like the New York City MTA subway systems. Multiple studies have shown the effectiveness of UV-C disinfection.
Directed Airflow
The Haiku and Essence fans position UV-C lights on top of the electric motor housing units. The fan's operation directs air from the room below around the wash zone of the moving blades to create an upper-level disinfection zone. The UV-C light destroys the airborne COVID-19 virus particles, then directs the purified air down into the living space.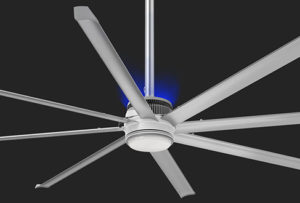 Benefits, Plus Great Looks
Haiku and Essence fans are powered by silent, gearless, direct-drive electric motors providing excellent energy efficiency. Haiku with UV-C technology is available in diameters of 52-, 60-, and 84-inches. Haiku fan blades are made of  Moso Bamboo blades in two colors or aircraft-grade aluminum in ten different colors. The fans operate at 7 different speeds and are controlled with a remote, a smartphone app, or through voice controlled Ecobee, Alexa and Google Assistant.
The Essence fan is a more industrial looking fan fit for larger sized areas, including great rooms, or indoor pools, and is available in standard silver/black and silver/white, with custom colors available.
These innovative fans add another energy efficient tool to keeping your Katahdin Cedar Log Home healthy and safe.