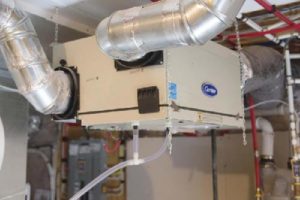 ** Updated 11/10/23**
Indoor air quality (IAQ) is an important factor to consider when building your Katahdin Cedar Log Home. Because our super-efficient Energy Envelope System prevents air leakage to save energy, it's important to include systems in your log home —or any tightly sealed home— to ensure fresh air is circulating at an appropriate level of air exchanges per hour. The second factor in your home's IAQ involves preventing indoor air pollution from collecting and circulating. This maintains your home's healthy atmosphere and can prevent respiratory disease flare-ups.
Fresh Air Circulation
In older construction, fresh air circulation wasn't much of an issue because homes "breathed." Tiny gaps and cracks, poor or non-existent insulation and little mechanical air movement ensured there was enough air inside to breathe and fire combustion appliances, such as furnaces, gas stoves and fireplaces. When homes started to be better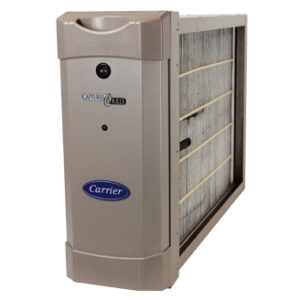 insulated, air sealed and enclosed, some homes developed moisture problems from excess humidity, increased allergy and asthma symptoms and serious problems like back drafting furnace fumes.  Fortunately, building performance science has deciphered the balance required for efficient homes to also enjoy clean, healthy indoor air.
Three Elements to Enhance IAQ
To keep your indoor air healthy and ensure your home is as energy efficient as possible, tackle your air requirements with these three steps:
Whole House Ventilation — Using energy recovery ventilation (ERV) or heat recovery ventilation (HRV) systems is the first step to ensure excellent indoor air health. Both operate in conjunction with your heating and cooling system to circulate old stale air out and bring in fresh outdoor air. These units provide air-to-air exchanges to improve efficiency in heating and cooling systems. ERVs also capture moisture, which is useful in colder climates when dry air in the winter can be a problem.
Remove Contaminants — Contaminants in your indoor air can include particulates, gases, bacteria, viruses and chemicals. Filtering and removing these pollutants before they enter your heating and cooling system is important to improving air quality. Whole house air filtration units can be specified as part of your log home's HVAC system. Carrier offers a suite of Infinity air purifiers that interface with your forced air heating and cooling. Their filters can capture dust, viruses bacteria, allergens and even mold spores! Lennox also offers indoor air quality appliances that scrub and purify air from your heating and cooling system.
Reduce VOCs —Volatile organic compounds or VOCs are the fumes responsible for that "new car smell." Theycan be found in carpet, cabinetry, paint, stain, furniture and other man-made materials. When these products are installed, they will off-gas or release VOCs into the air. Of course, a good ventilation system will help to remove incidental VOCs throughout your home, but if your family has respiratory conditions, it may be smart to opt for low VOC products wherever possible.
Ensuring your home's indoor air quality is at peak performance will help you live your healthiest life in your new Katahdin Cedar Log Home!