One of our most energy focused customers, Troy Brown,  mentioned some devices he utilized to get a handle on energy consumption within his LEED Platinum Arborwall home in New Hampshire. While not everyone is targeting a net-zero energy use in their Katahdin Cedar Log Home, these devices can perform a useful function to identify where and when your home is using power. So, we thought we'd explore these devices in a little more detail. See if one might meet your needs!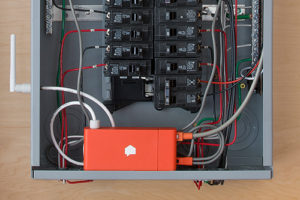 Sense Home Energy Monitor
When connected to your home's main breaker panel, Sense will begin to "learn" your home by identifying electric devices through their unique signatures. The device is simple— two sensors that clamp onto the main circuits and a connection to a 240v circuit breaker. It should be noted that a licensed electrician should install this device. Once the Sense monitor is installed, you'll connect the device to your Wi-Fi and begin "listening." The app will help identify energy hogs, phantom loads, and vampire circuits that could be adding to your overall power consumption. The device can also generate notifications and send alerts to your smartphone when the garage door opens, the sump pump turns on or your dryer has completed the cycle. It can even answer that age-old on vacation question: did I remember to turn off the iron?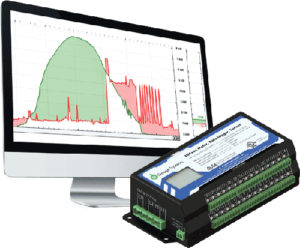 eGauge Monitoring Systems
If you're adding solar to your Katahdin Cedar Log Home, our Solar Ready program can get you started in the design phase. Once the solar array is installed, a monitoring system like eGauge is a real-time way to monitor solar production and energy consumption within your home. It's especially effective in identifying large and critical loads, such as sump pump operation. The eGauge uses sensor inputs to critical circuits and can monitor 15 or 30 inputs.
Wemo Smart Plugs
Wemo offers some excellent solutions for controls and smart plugs that can be remotely controlled and programmed. Installing Wemo light switches allow remote controlled indoor lighting, and Wemo plugs can be programmed to activate and shut off via a smartphone app. The plugs allow homeowners to program and control lighting and other electronic devices remotely. The products all work with the top home assistants currently on the market, Apple Homekit, Amazon Alexa or Google Assistant, to use voice commands to "control your stuff," as the company website notes. These products also can be custom programmed using IFTTT for added smart home features.
Kasa Smart Wi-Fi Lights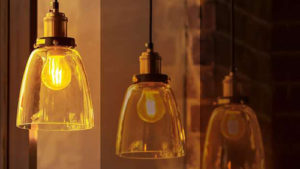 If you're just starting to dip your toe into smart functionality, the Kasa Smart Wi-Fi LED bulb might be a good place to begin. Using the Kasa smartphone app or a home assistant, you can program the Kasa bulbs to turn on or off, dim and change color automatically or as desired. In particular, we were drawn to the fantastic looks of Kasa's Filament Smart bulb for a more vintage look that melds well with the log home aesthetic. Available in a warm amber or soft white option, the bulbs combine LED efficiency with stylish clear glass and filament good looks. These bulbs can be controlled using Alexa, Google Assistant or Microsoft Cortana.
Be on the lookout for more products of this type to make your home more energy-efficient and well-monitored.