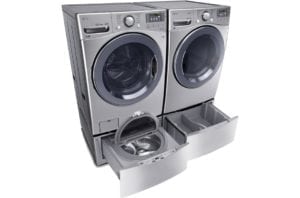 Sometimes you need to wash just an item or two and don't have time for a full load to accumulate. Or, a few delicate items need a quick wash at a different temperature than the full load. LG has a great solution for these tiny loads: the LG Twin Wash with Sidekick pedestal. The LG Twin Wash main wash compartment offers superb cleaning performance and water sense efficiency for large loads. The Sidekick is a small washing compartment placed in the base pedestal below the main Twin Wash unit. The mini-washer allows you to wash small loads of laundry—with different temperature and configurations— to save time, water and energy.
Designed for "loads that can't wait," the Sidekick pedestal washer works with a wide range of traditional sized LG washers. The company's website offers a tool to match a Sidekick to models of LG washers currently available.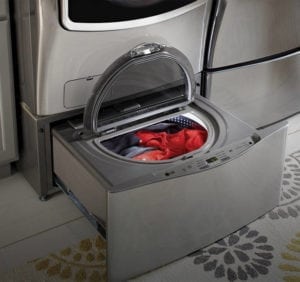 It's easy to upgrade a compatible LG washer with a Sidekick pedestal and increase the functionality of your laundry room in one step.
Even though it's small, the Sidekick is designed to handle 3-5 pounds of laundry: a week's worth of lingerie or 5-6 shirts. The mini-washer has six different cycles to meet the cleaning demands of a wide range of laundry. The unit is designed to operate simultaneously with the main washer, allow laundry day to be cut in half. This mini washer features a direct drive motor that performs reliably and quietly.