Kitchen sink areas just keep getting more options! The latest time-saving sink accessories for many Katahdin Cedar Log Home gourmet kitchens include an instant hot water dispenser and glass rinser.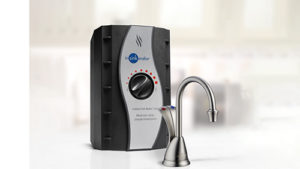 Compact Design
Insinkerator, the disposal experts, have develop a line of instant hot- and cold-water dispensers. The Involve HC View is designed to bridge the space between contemporary and classic fixture design to fit in most kitchens.  Insinkerator's hot water dispenser has a large capacity 2/3-gallon stainless steel reservoir that can produce 60 cups of hot water per hour. The dispenser is compact and constructed of solid metal. The dispenser will require a 115-volt power source. The thermostat is adjustable from 160 to 210 degrees.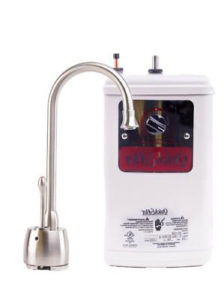 Just Hot Water
If you're only interested in hot water, Waste King's Quick&Hot Coronado Faucet is a great option. The satin nickel spout has a 4-inch reach connecting to a 1300 watt, 5/8-gallon stainless steel tank that can produce 100 cups of hot water per hour for tea or food preparation. The dispenser features fingertip temperature controls with a 140-190-degree range. One thing to note: the instant hot water dispenser has a safety feature valve to accommodate temperature changes without risking over-expansion of the tank's interior bladder, which may cause the faucet to drip on occasion.
Upgrade Your Glassware Cleaning
Baby bottles, wine glasses and water bottles can be dishwasher space hogs—especially if your dishwasher is limited to four bottle jets. Why not equip your new kitchen or home bar in your Katahdin Cedar Log Home with a home glass rinser, just like the restaurant pros use?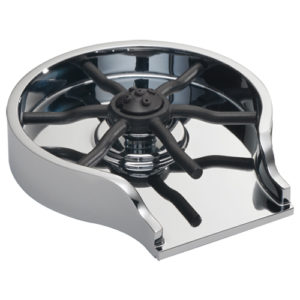 Delta Glass Rinser
Delta's Glass Rinser  is a great solution for equipping kitchen or bar sinks—especially if your faucet set up includes a professional style pull-down sprayer. This unit is situated alongside the faucet assembly directly on the counter surface. Just tip the glass or baby bottle over the rinser press down, and a spray jets up to clean every nook and cranny inside the container. The rinser drains directly into the sink, and can accommodate glassware with openings as small as 1 inch, up to 3.6 inches in diameter.
The Delta Glass Ginser has a low profile and can be installed in any sprayer or soap dispenser hole The unit includes a cover to prevent accidental water spray. The glass rinser can be connected to either the hot- or cold-water line and is finished with Spot Shield stainless steel or traditional chrome to coordinate with any kitchen style or brand of faucet.
Whatever kitchen sink accessory you select, having an instant hot water dispenser and glass rinser makes life easier in a busy kitchen!