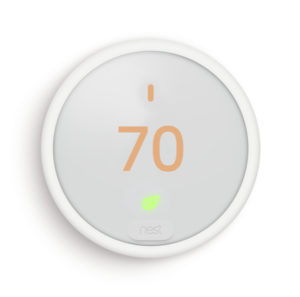 Smart, programmable thermostats are an essential part of your energy saving heating and cooling profile. Most manufacturers estimate 10-15% savings on heat and as much as 20% on cooling. We wondered about the options for energy saving smart thermostats available on the market today. Here's a rundown:
Nest Thermostat E
Nest provided groundbreaking technology with its first smart thermostat, that "learned" your family's heating and cooling needs and offered remote tracking and controls. The new Nest E model is still pretty smart, and about $80 less expensive*. We like the frosted white screen with color display that blends a bit better with your in-home décor.
Ecobee4 Smart Thermostat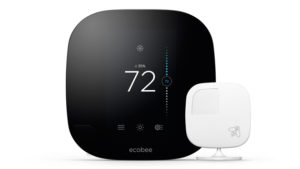 With its Alexa home assistant integration, the Ecobee4 not only controls your homes HVAC but can also read you the weather report or the current news. It has voice-activated controls in addition to its touchscreen and smartphone app controls. The Ecobee4 smart thermostat comes with a remote room sensor, which plugs into an outlet to help reduce cold or hot spots. Ecobee also offers bundled products, including a smart light switch and additional room sensors for a reduced price.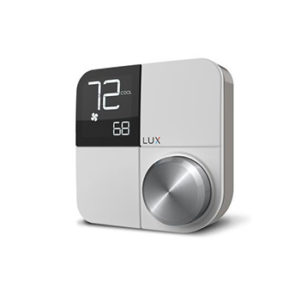 Lux Kono Thermostat
The stylish Kono thermostat offers interchangeable covers in nine colors to help it blend in or stand out. The Kono offers energy and runtime usage reporting, as well as smart scheduling with a utility cost estimator. The only thermostat we noted with a built-in indoor air quality mode, Kono interfaces with Amazon Alexa, Apple Home Kit, and the Google Assistant.
Carrier Infinity System Controls
Powering the Carrier Infinity hybrid heat pump system like the one selected by Arborwall's Gabe Gordon for his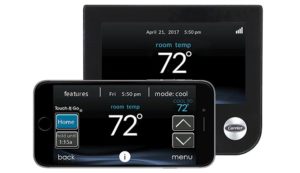 new home, this control set is more than a thermostat. With wireless connectivity, occupancy sensing capabilities and built-in intelligent technology, the Infinity System Control offers unique controls of both comfort and energy savings. The Infinity system monitors temperature as well as humidity, air flow, and ventilation for up to eight zones. The system is compatible with Amazon's Alexa home assistant.
*Pricing at time of publication.