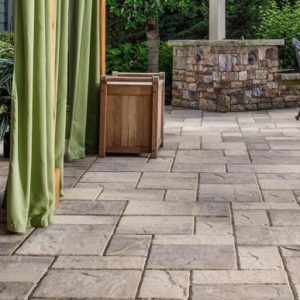 Hardscaping is a great complement to your Katahdin Cedar Log Home's outdoor areas. Whether it's a patio just outside your walk-out basement or a series of terraces for entertaining, pavers provide a durable finish to your home's landscaping. One company, Belgard has a broad range of pavers and designs to bring your outdoor vision to life.
Get Started
Outdoor design starts with the basics of selecting the pavers to use. The company recommends you harmonize with your home's exterior colors and styles. The first step is to select light or dark pavers. This selection can affect how they interact and influence the appearance of your outdoor areas. Light stones reflect light better and open up the spaces. Dark tones absorb light for the opposite effect. Many homeowners opt for a blended approach using two or more colors in a single paver design. This can bring out the best of shaded and sunny areas, and camouflage stains. Colors have a tendency to shift slightly as they age, so blending can minimize this effect.

Choosing Shapes & Patterns

Many homeowners select paver shapes to complement the lines and style of the architecture. Log homes have a strong horizontal element because of the rows of logs. These straight lines can be balanced by geometric pavers in simple patterns, especially if your log home style is more contemporary. If your Katahdin Cedar Log Home is more rustic in style, a free-form natural looking stone paver from the Belgard Mega-Arbel collection may be more desirable.
Once you've selected a shape, the pavers are laid in one or more patterns to harmonize with the location. For example, a narrow pathway can appear wider by laying pavers in diagonal or horizontal rows. If your patio or terrace covers a big area, laying pavers using grids of rectangular patterns can provide better visual definition.
Consider Rainwater Flow
Some homeowners are trending toward managing rainwater runoff with permeable pavers. These act like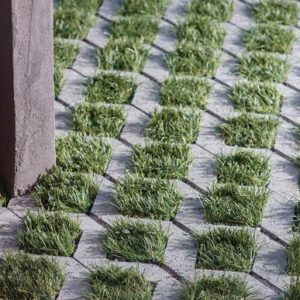 natural ground surface to absorb rain water and avoid excess runoff that can lead to drainage and pollution issues. Belgard Aqua Roc and Eco Dublin permeable pavers are a great solution for driveways and walkways. Another permeable product called Turfstone allows water to pass through while allowing for grass to grow in the diamond shaped gaps to provide stability and a natural look.
Add Vertical Elements
It's easy to add vertical hardscape structures like benches or seating areas, walls and even built-in outdoor kitchens with the complementary products from Belgard. Their Freestanding and Retaining Wall blocks can help define uneven terrain and construct seating areas, firepits and landscaping perimeters. The company also manufactures modular kits for outdoor kitchens to elevate your outdoor entertaining to a new level. For more information or to find a contractor, check out Belgard's search tool on the website.