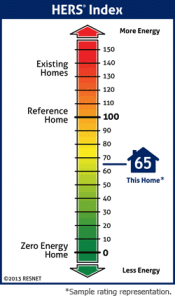 Wouldn't it be great if you could get a miles-per-gallon reading on a log home? It sure helps when deciding on a vehicle, but often folks focus on the look and features of their new log home without examining the energy that home will consume over its lifetime.
Fortunately, some very smart people have developed the HERS rating, which stands for Home Energy Rating System. HERS is the nationally recognized system for inspecting and calculating a home's energy performance. HERS was developed by the Residential Energy Services Network (RESNET), which was founded in 1995 as an independent, non-profit organization to help homeowners reduce the cost of their utility bills by making their homes more energy efficient, according to its website.
How does HERS Index work?
The HERS rating is a comparative tool which rates a house when compared to an average home in the U.S. The average home is rated 100 on the HERS scale. Since the HERS Index measures the amount of energy consumed, a score lower than 100 means that it is better than average when it comes to fuel efficiency. A home that has a HERS score of 70 is deemed to be 30% more efficient than the average home. A HERS of 130 is 30% less efficient than the average home.
What factors affect a HERS score?
There are many elements to a home that can affect a HERS score. The entire home's exterior envelope — the walls, doors and windows, roof and attics, unheated basements— can all affect the efficiency of a home by the amount of energy they allow to escape from the home. The efficiency of heating, ventilation and/or air conditioning systems will affect the amount of energy consumed and thus the overall efficiency of a home. Homes that are well-insulated and tightly sealed with energy sipping furnaces will benefit from a lower HERS score.
How is a HERS score compiled?
Conducted by a HERS certified inspector, a HERS inspection includes analysis of insulation, windows and doors, the HVAC system and other home elements such as alternative energy, and ductwork. The HERS inspection will also include a blower door test, which identifies any air leaks in the exterior envelope that would affect the home's efficiency. HERS inspectors will conduct an analysis "on paper," then inspect at a midway point to review sealing and finishing, then finally conduct a blower door test once the home is complete.

In log homes, the blower door test can be a good test of how well the caulking has been done and how well the logs have been seasoned. The blower door is installed in an open door and uses powerful fans to create a lower air pressure inside the home's envelope. The overall interior pressure is measured to see how leak-proof the overall home is. An infrared camera is used to identify specific leakage areas, which usually occur at intersections of walls and ceilings, around windows or other areas where caulking is very important.
The HERS inspector will conduct the energy performance assessment using infrared cameras, duct leakage detector, combustion analyzer and the blower door test to determine the effectiveness of insulation, heat loss through air leaks and any combustion safety issues. These figures are then entered into a computerized simulation using RESNET software to compute the final HERS score.
Cedar log performance is key
What we've discovered in conducting blower door test over recent years is that cedar will outperform other wood species year after year. It's easy to caulk in the gaps between logs in a new log home and pass a blower door test with flying colors the first year. The challenge is to maintain that tight seal as the logs continue to equalize with the surrounding air. Even kiln-dried pine logs will continue to shrink dramatically as they reach equilibrium with the climate conditions. Northern White Cedar—the log species that Katahdin uses— have significantly less moisture to start. When they're milled and shipped they have an average moisture content of 10-12%, and as a result will have only minimal shrinkage over time. The result is a tighter home and continued low HERS scores.
HERS ratings after 2 years
The true test of a HERS rating in a log home is after several years, when the logs have had a chance to equalize with the ambient moisture outside. Our homes have been blower door tested after several years in the extremes of northern Maine and the HERS scores remain just as low as when the homes were first built. The HERS rating is a score that realizes cumulative effects over many years, when the efficiency of a home can really add up to real savings.
In addition, a low (energy-efficient) HERS index rating can provide a significant upside in your home's value, especially when it comes time to sell. Reduced heating costs and increased value sure do add up over time!

For example, Katahdin's Vice President of Design and Engineering, Jim Lyons, had his home tested and rated when he first built it in 2009. The testing company provided a plans review, mid-inspection and final inspection including a blower-door and infrared camera analysis of trouble spots. The tests were priced based on the square-footage of the home and totaled $700.
The final HERS score resulted in a 58, identifying that Lyon's Katahdin Cedar Log Home was twice as energy efficient as an average home in the area. The infrared analysis identified some minor areas of air infiltration and wind washing where insulation had pulled away from the interior ceiling or was lifted for wiring.
But the truly amazing results came two years later—after normal living in the home, an addition of a dryer vent and equalization of moisture levels in the cedar logs— the home tested exactly the same on the HERS index: 58.
Lyons' home was built using the standard construction techniques of Energy Envelope System, sealing and Low-E windows. We believe Katahdin Homes will stand up to the years and a HERS Index rating is a smart way to ensure you have the most efficient home possible. And should you decide to sell your home the HERS rating will scientifically quantify the efficiency of your home.