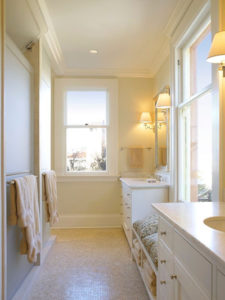 One great way to maximize space in your Katahdin Cedar Log Home is to create a Jack & Jill bathroom linking two bedrooms. You'll save money on fixtures but still provide a full bath for each of the two bedrooms. Here are some tips to make your shared bathroom functional and efficient. Jack and Jill baths are also a great way to maximize rental properties.
Double Sink Vanity — Fighting over a single sink can diminish the harmony in a shared Jack and Jill bath. Install two sinks with matching mirrors and plenty of convenience outlets to accommodate styling appliances. Individual storage can help promote privacy, reduce clutter and keep items tucked away. Consider a deep appliance drawer with plugs like these docking drawers for the ever-growing list of small electrics required by teens. For vanity countertops, select a durable material like quartz or other man-made surface that will resist scratches and stains.
Private Toilet — If the shared bath is being used by both sexes, consider a private toilet closet with good ventilation.  This can enable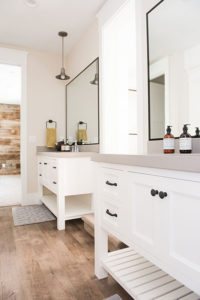 siblings to have privacy yet keep other parts of the bathroom accessible.
Ensure Privacy — Another recommendation is to include simple locks on both sides of doors between the Jack and Jill bathroom and adjoining bedrooms. This will increase the level of comfort and privacy each child has for their own bedroom space.
Tub & Shower— Keep it easy to clean! Include a handheld shower head with adjustable height, as well as an extra deep tub. On one wall construct a generous shelf to hold shampoo, conditioner and body washes, as well as soap, razors and washcloths.
Good Lighting — Opt for warm-toned LED lighting for applying make-up and inserting contact lenses. Side lights around mirrors and overhead lights should both be available.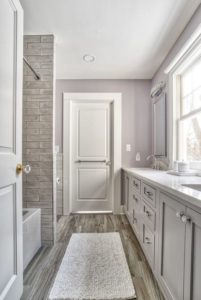 Excellent Ventilation—Kids and long showers are a recipe for mold and mildew. Keep your steamy shared bath less humid with a ventilation fan that turns on automatically when moisture is detected, like these energy-saving models.
If you're considering a Jack and Jill Bathroom set-up check in with the Katahdin Design Department, who can map out a great solution for your new log home.