One of Katahdin's Dealers, Bill Seymour of Carolina Log Center, has been an early advocate of the benefits of building certified green homes. Last month, one of Seymour's homes became the first home to be certified green by the Build Green Greater Columbia program. Additionally, the home is Energy Star Certified and is a certified Gold level green home in the National Green Building Certification Program administered by the National Association of Home Builders Research Center.
The 1,983-square-foot home passed the battery of tests with minimal modifications to the standard Katahdin log home package. Manufactured of high R-value Northern White Cedar logs, the home features Katahdin's insulation package, Andersen 400 windows and patio doors, 20"-24" overhangs, low-flow water fixtures and a 92% efficient heating and cooling system. The home features a fully covered front porch, a large, screened rear porch and oak floors.
"Log homes are naturally energy efficient simply due to the building materials and construction techniques," said Seymour, CGP of Carolina Log Center. "We are very happy to have the first locally and nationally certified green home in these programs."
For certification, the builder works with a certifying agent or third party certification company to ensure that each element of the home employs efficiencies and green practices. The process begins with the design, is followed throughout construction and is completed with a final inspection and blower door test to ensure minimal air infiltration.
The Build Green Greater Columbia program is administered by the Green Building Council of Greater Columbia, which is affiliated with the National Association of Home Builders' green building program. Homes in the program are third-party verified to ensure that they meet the criteria as outlined. There are three levels of certification in the Build Green Greater Columbia program: Bronze, Silver and Gold. The home built by Carolina Log Center is certified at the highest level – Gold.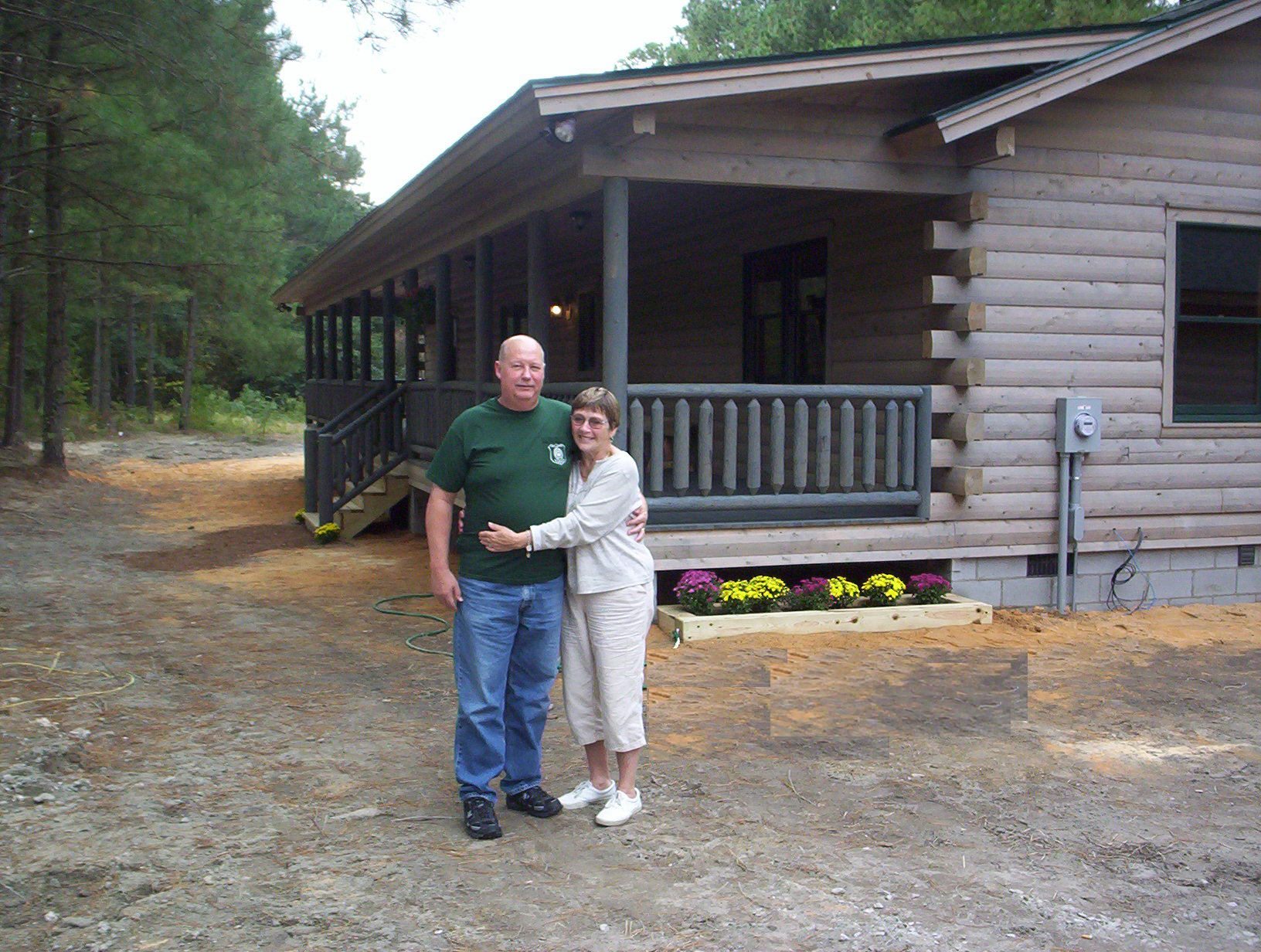 New owners Bud and Louise Foster pictured in front of their new green Katahdin Cedar Log Home.