Kitchen islands have become a must-have for many Katahdin Cedar Log Home owners. The right lighting choices over these centralized kitchen areas can ensure that meal preparation, eating and other island activities are well illuminated.
LEDs— A Must-have!
For maximum lighting options and superb efficiency select fixtures with LED light components. Gone are the harsh spectrum LEDs; these lights can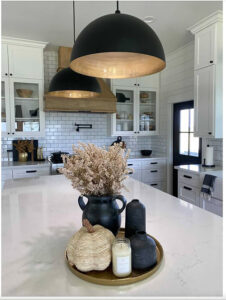 provide warm, cool or anywhere in between to complement your kitchen décor. Check out the Vintage style LEDs from GE Lighting for savings and great style for log home décor. With their vintage shape, these highly efficient LED bulbs add dimmable, long-lasting charm to kitchen islands.
Fill the Space
As many Katahdin kitchens feature vaulted or extra lofty ceilings, make sure the fixture you select for your island doesn't get lost in the expanded vertical space. Oversized basket or industrial style fixtures, like these from Steel Lighting Co., provide balance of large island areas, as well as providing complete illumination. Under more standard or beamed ceilings, make sure your island lighting is downsized to fit the space. Also keep in mind that sight lines into the adjacent great room or other living areas are not blocked by a fixture that hangs too low.
How Many Lights?
Like selecting the size of the fixtures, the quantity can also vary, depending on the length of your island and how your island will be used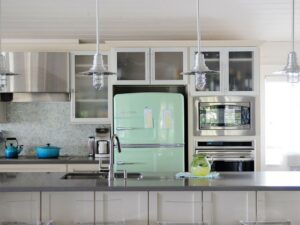 day to day. If you have distinct work stations, like a marble bread kneading station or a prep sink, you'll want to arrange the lights to focus on these areas. If your dishwasher, warming drawer or drawer microwave are located on the island, lighting these areas for better visibility will also determine the number and placement of pendant or other lighting fixtures.  It makes sense to limit oversized fixtures to two or three, while smaller lights may be placed at appropriate spacing along the island.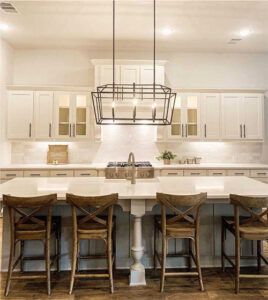 Chandeliers — Yes, or No?
Chandeliers are single fixtures with multiple lights and not limited to the classic crystal dining room styles from last century. These can be abstract and free form with multiple lights fixed to arms or rods that provide an overall cascade of light over the island. They can be roughly oblong — better for longer spaces— or more compact for smaller island surfaces. They are great for filling the spaces created by tall ceilings. Overall, it's probably better to go slightly larger than you might think for a chandelier fixture, to avoid the pitfalls of undersized lighting.
However you decide to light your kitchen island, you'll have plenty of options!