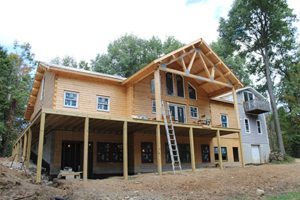 You may recall our story about new Arborwall Solid Cedar Home construction in Ohio's Buckeye Lake Region. Arborwall and Katahdin dealer Steve Dearlove of The Dearlove Company has been rebuilding his family farm in Thornburg, near Buckeye Lake, using the existing foundation and an updated Arborwall design. Steve has built a well-deserved reputation for his quality lake resort homes in nearby Hocking Hills State Park, where he's hosted Katahdin Cedar Log Home seminar events.
"It's been a busy summer, and after a few false starts, we're finally under cover with windows and doors installed on October 7," Steve said. While this is the first Arborwall home he's designed and constructed, the construction techniques are the same he's used on the other Katahdin Cedar Log Homes he's built, with one small difference: "The squared logs, purlins and other log components go together so easily!" he explained.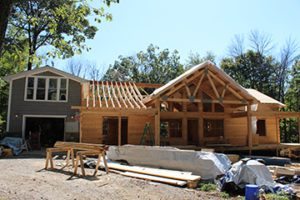 As you can see from the photos, Steve kept the functional existing garage and living area and demolished the outdated main home, which has been replaced by the new log structure. The home is being built on the families' working farm that raises cattle and harvests hay from the fields. Steve said, "The old house was well past its useful life and we decided to take the leap with the Arborwall design."
Steve incorporated a broad farmer's porch on the front and back of the house. The open great room and kitchen area is a focal point for soaring cathedral ceilings featuring the distinctive purlin and truss designs of Arborwall. Note that the truss beams are squared off and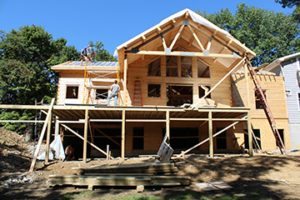 fastened using steel plates for a more contemporary presence. A stairway leads to a second-floor balcony that spans the great room, leading to a single second floor bedroom with an adjacent half bath. Steve opted for a first-floor master suite that stretches from front to back and large closets. An office, a second bedroom and a second full bath complete the main floor.
Lake Water Levels Return to Near Normal
One of the key factors to Buckeye Lake's revival as the oldest state park is the ongoing and successful restoration of the earthworks dam that creates the lake. After the 2016 summer with very low lake levels the past summer returned to near normal levels of water. The dam construction and reinforcement work has been continuous and is expected to continue over the winter. "We enjoyed a really good season on Buckeye Lake this summer," Steve said.
Arborwall Open House Event Saturday, October 28
Steve is taking a break from his busy fall log home show schedule to host an Open House event at this gorgeous Arborwall home on Saturday Oct. 28 from 10:00 am to 2:00 pm. Although the log walls are up and getting finished, he plans to have some of the interior walls unfinished so that guests can see the unique construction of these log walls, as well as where the insulation will be applied. Here's your invitation to the event and be sure to RSVP!