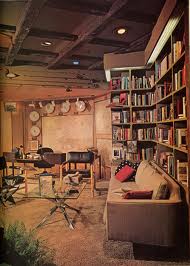 Your father's den—his retreat from the world—has evolved in the modern age. Now this traditionally masculine refuge has taken on a new identity and moniker: the Man Cave. And, it can be as individual as it's owner. Many log home owners are setting aside a portion of square footage for a gathering place for sports enthusiasts, a game room or an opportunity to enjoy and share a special hobby.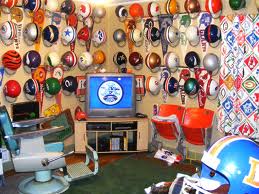 Man Cave Essentials
Guys do love their sports and the typical man cave is more often than not equipped with an oversized flat screen television, DVR recorder, and sound system. Cable or satellite connectivity is essential to getting all the games, and you'll need to identify which sports are carried on which system. For example, Direct TV has exclusive rights to some NFL programming, which may be a must-have for the sports fan in the home. Don't forget to allow some capability for internet access, as television and streaming data are beginning to merge into a single source for programming.
A man cave also needs to have access to a refrigerator at minimum for cold beverages, and access to the outdoor grill area. Some man caves are equipped with beer taps and bars, full kitchens, and cabinets for storage. If music is part of your celebratory activities, consider extra insulation in the walls, floors or ceilings of the area to mute the noise factor in the rest of the home. An adjacent half bath keeps traffic through the rest of the home to a minimum. Also a good ventilation system for the room is important if activities include enjoying a good cigar.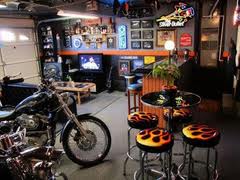 Select a Theme
The themes for furnishing a man cave can run the spectrum. There are many sources for man-cave-themed items to add flair to this retreat. Sports team-related clocks, pool tables, rugs, lighting and other items can be found online at sites such as ManCaveRooms.com. For a more retro look, some man caves are decorated with replica advertising signs or other collectibles from the past. Retroplanet.com has a terrific selection of unique and interesting objects suitable for most any themed man cave. Sometimes flea markets and yard sales can yield up some inexpensive treasure to add just the right touch to the man cave.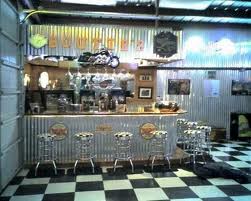 If the man of the house has a particular hobby or collection, what better place to display his trains, woodworking, model aircraft or baseball cap collection than in his own retreat? If your budget determines that the "man cave" needs to be a multipurpose room for other family activities, furniture that does double duty may be in order. This could be as simple as a comfy leather sofa recliner with armrest tables and cup holders to a more specialized piece of furniture.  La-Z-Boy will be launching their new XZipit Reclinerwith a team log headrest that is easily zipped into place in season or on game day and zipped out for other times.
Of course a man cave can also be an upgrade to the typical "den" with clubby leather chairs, billiard table, elegant bar and attractive stonework. It all depends on how the man's personality and interests are brought to life in this masculine domain. For more ideas for man caves, check out the DIY Network's Man Caves Show.