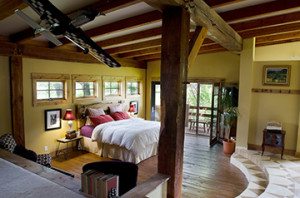 Master bedrooms have taken on a new status in homes—evolving from a place to lay your head at night into master retreats. As noted in last month's article about designing for resale, paying attention to design features, especially in the master suite can reap financial rewards as well as provide a really nice master bedroom to enjoy in your new log home.
That said, there are some things that can be included in the design that are not budget breakers, as well as ideas for the over-the-top retreat many home owners aspire to in their new homes.
Master the Essentials First
In master bedrooms, size does matter! The master bedroom should be roomy and provide enough room for a queen or king sized bed, night tables and dressers. Ample closet space for each person should also be adjacent or in the main room. Add lots of good-sized windows that take advantage of the view and the result is a fine standard master bedroom.
Some other basics to consider: depending on the stage of your family, the master bedroom might be located either adjacent to children's rooms or well separated and even on another floor for privacy. Many folks build in separation by locating the master on the main level with kids' bedrooms either upstairs or down— or separated as "wings" by common areas.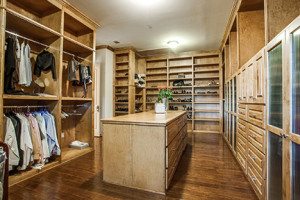 Walk-in Closets
Beyond merely ample closet space, walk-ins provide additional storage and space for couples. Individual walk-in closets cater to different needs and space requirements. For example, a man's walk-in might have hanging racks stacked for suit coats, pants and shirts, while a woman's closet might have a space for longer hanging items, like dresses. Built-ins for shoes might have different configurations depending on the couple's individual collections of footwear.
A walk-in closet might include enough room for built-in drawers and shelves, or allow space for a freestanding bureau or dresser. Another nice touch would be to line the ceiling or walls with unfinished, aromatic cedar to deter moths. Custom finished closets and built-ins can add extra utility and style to a master suite.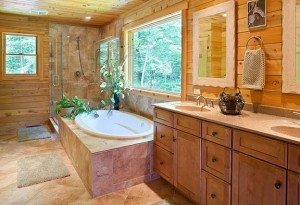 Master Bath Option
Bathrooms can easily be the second most expensive room in the home, after the kitchen. Most modern master retreats have what is termed an "en suite" bath, one that is accessible only through the master bedroom and separate from the rest of the home. Basics include sink, toilet, shower and/or bathtub. How these basics and additional upgrades are arranged and designed is where imaginations step in. Here are some of the options being included in master baths:
Double Sinks —This his and her option is one way to make a master bath work well. Many home owners are carrying high-end countertops used in the kitchen area into the bath, with granite, manufactured quartz and other materials providing a stylish look.
Furniture Vanities — rather than the cabinet style vanities, many masters are being equipped with vanities that have the look of tables, chests, bureaus and other pieces of furniture. Some designers are re-purposing antiques for vanity duty. Really, just about any sound piece of furniture of the right dimensions can work. Make sure that the height is right; if the piece is too small a platform may be used to raise the counters.
Spa Tubs—One feature that is highly desirable among younger couples is including both shower and tub in the master suite. Unlike the churning whirlpool style tubs in the eighties, these spa tubs are stand-alone soakers. Spa tubs can feature unique hardware and may be positioned in a place of prominence in a master bath. Consider maximizing the spa-like experience with adjacent windows or sliders onto a private deck.
Toilets—Toilets have come a long way in recent years. Toilets are also one of the most durable appliances in a home, so it's important to get one that will endure trends as well as use water wisely. One European option that is making its way into US homes is the high efficiency dual flush style toilet, which uses an appropriate amount of water for liquid (0.8 gallons per flush) versus solid waste (1.6 gallons per flush). Pressure assist toilets (1 gallon per flush) use air pressure from an adjacent tank to power flush the waste. Other manufacturers have added nightlights, cleansing sprays, self closing lids that may be appealing. One optimal design feature for toilets is the separate water closet with a door. However, separate his and hers toilets are not a winner. And unless you are accustomed to using a bidet, skip that upgrade.
Showers— Showers are quite desirable in the master bath, especially when paired with a tub, either combined or as standalone units. Showers can be as simple as precast modules in various materials or as elegant as a glass-enclosed, no-threshold shower with tile or stone finishes. A couple of things to note about showers: make sure your shower fixtures are low-flow to keep water usage down. Most low-flow shower fixtures now deliver a satisfying shower experience, unlike some of the earlier prototypes. When in doubt, visit a bath and shower showroom with plumbed displays so you can sample before buying. Also check out the related article about adding steam showers to your home.
Fireplace—Nothing is cozier than a fireplace in the master bedroom. It evokes the romance of a New England bed and breakfast while taking the chill off of cool evenings. Unless you're a hardcore wood burning enthusiast, the best way to accomplish this feature in a bedroom is a natural gas or propane fired stove unit. If your master bedroom is spacious, consider leaving enough room for a comfortable reading chair or two near the hearth. Above all, situate the fireplace so that it can be viewed and enjoyed from the bed. This may involve a raised firebox or one of the more contemporary, linear gas fires.
Outdoor Spaces—Whether it's a balcony, an extension of the wrap-around porch or semi-private deck area, expanding your master retreat space into nature is a great way to add features without much expenditure. Instead of sliders, select French doors for an elegant access point. If your area is vulnerable to mosquitos or black flies, consider a screen/storm combination enclosure that can add extra space and passive solar in the cooler months. Log home gazebos are also a great addition to a master suite. They also add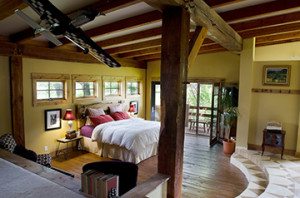 some architectural interest to the house exterior.
Laundry Room— Nothing is easier than a laundry that is accessed from the master suite. One nifty way to accommodate the laundry is to access it from two doors, one from the master bedroom area, and one from a hall or kitchen. Another tip: make sure that soundproofing insulation is doubled up between the laundry room and adjacent sleeping areas.
Built-ins— Custom cabinetry can take many forms in the master retreat. Add a window seat to an alcove for seating and storage below. Build in cabinetry to hold the television, sound systems, and bookshelves in the bedroom itself. Add drawers, cabinets, shoe racks, vanities, mirrors, for custom walk-in closet amenities.
One thing is certain: when it comes to master retreats, they can be as individual as their owners. Don't hesitate to make the master suite a cozy and comfortable retreat in your new log home.