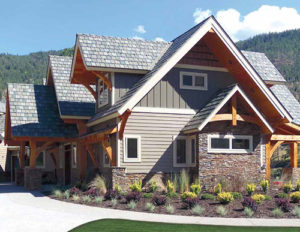 Metal roofs are quickly becoming a preferred material for Katahdin Cedar Log Homes. With a variety of styles and colors, along with long-lasting durability, metal roofs are a great choice!
Benefits of Metal Roofs
Metal roofs are increasingly seen as the best option for custom log homes to protect the largest investment in most families' portfolio. The benefits are many:
Low long-term costs. While you'll likely pay more initially for a metal roof, its extended lifespan can spread that cost out over 3-4 times as many years when compared to a shingle roof. Considering a homeowner will likely need to replace an asphalt shingle roof at least twice, metal roofs can be a wise investment. You'll ultimately save for both materials and labor costs over the long run.
Better protection from extreme weather. If your new home is located in an area known for potential extreme weather, a metal roof provides better resilience to hurricane force winds, hail and flying debris. Especially in hailstorms, metal roofs are less likely to puncture from a hail event. Asphalt roofs can suffer tiny, nearly invisible punctures, which can add up to water damage down the road.
Improved wildfire protection. Many homes built in naturally wooded areas — and log homes are frequently placed in the wildland-urban interface— are more susceptible to wildfires. Often a metal roof forms the first line of defense against airborne embers.
Improved energy efficiency. Metal roofs are now coated in reflective PVDF coatings that reflect radiant heat back and can save as much as 7-15% on energy. Check out this month's Green Tip about cool roofs.
Easy interface for solar. Solar panel arrays are now configured to clip onto standing seam metal roofs easily. This reduces roof penetrations that can affect the roof integrity if not installed and sealed correctly.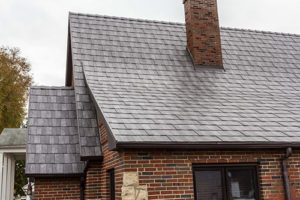 Any Style Roof Now Available in Metal
Long appreciated for their longevity, metal roofs have come a long way in recent years. While the traditional standing seam style metal roof is far and away the most popular configuration, manufacturers have been modifying the look and styles of metal roofs. With shape options like shingled, slate and shake designs, homeowners can select the look and features to match any style from contemporary to rustic.  Some metal roof companies to check out:
EDCO offers residential metal roofing in a variety of styles and colors. Select from shake shingle or slate shingle styles, six colors and four finishes to create a metal roof that suits your custom home design.
McElroy Metal roofs offer durability and several styles of  traditional ribbed or shingle look.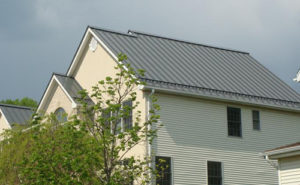 Drexel Metals Roof Systems offers a broad array of 45 color options to find the perfect complement for your log home's stain and style. Their website offers a color visualizer tool to help you see how roof options will appear on a completed home. For customers located in high snowfall areas, Drexel also offers a snow retention system for controlled snow evacuation. The system is designed to allow snow to melt slowly or evaporate in areas where dramatic snow evacuation poses a danger. The Retention system can be designed to match roof color to blend seamlessly.