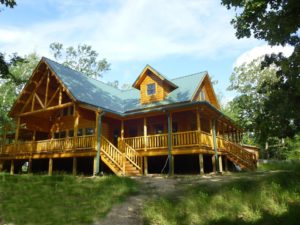 We're excited to announce two new Katahdin Log Home Events in the next 30 days.
March Log Home Madness
First, we kick off our season with March Log Home Madness on Saturday March 31 in Gilead, Maine, where you'll be able to tour three gorgeous Katahdin Cedar Log Homes! These homes are right next to each other and we'll have plenty of expert help on hand. You can even make reservations to stay in one of these lovely rental homes for a true immersion in the log home lifestyle. To reserve your spot, click here.
Spring Fling 2018 at The Reserve at Montalba
Join Katahdin Dealers Joe and Patty Hunt for a day-long event on Saturday April 7, Spring Fling 2018 at The Reserve at Montalba, their log home community in Montalba, Texas. The day includes log home tours, informational sessions with local dealers and some great Texas hospitality! Click here to reserve your spot —tickets are just $10 per person through March 20.
Final Three Spring Log Home Shows on Tap!
Our log home show schedule is wrapping up in April and May with great opportunities for folks to learn more about Katahdin Cedar Log Homes. In April we'll travel from Gatlinburg, Tenn., to Harrisburg, Pa., with a final stop in Lake George, N.Y. We're also working hard to schedule our next Logapalooza event so stay tuned for more information in the coming weeks.
If you're new to log homes, these log home shows are a great way to become better informed about Katahdin's dedication to quality, efficiency and great design. A visit to our beautiful Katahdin booth gives you a chance to learn more about what makes our approach unique, including our commitment to energy efficiency and complete custom designed log home packages.
Take a moment to check out these log home shows and stay tuned for more updates on our Events page.
Apr 6-7                       Gatlinburg Tenn., Log & Timber Home Show
Apr 20-22                   Harrisburg, Pa., Log & Timber Home Show
May 4-6                      Lake George, N.Y., Log & Timber Home Show