Make a date to check out these remaining Fall events.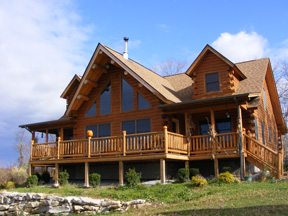 Log Home Seminar Saturday, November 13 Newton, New Jersey
The day-long Log Home Seminar at the Holiday Inn Express Newton Sparta will cover a wide range of information about designing your log home, selecting sites, financing and other questions. You won't want to miss important information about Katahdin's Energy Envelope System, which meets or exceeds the new energy codes that will be included in new rules to be enacted in New Jersey on March 7, 2011.
After the seminar, we'll take you on a tour of a nearby Katahdin Cedar Log Home where you can enjoy the log home lifestyle first-hand. Lunch will be served and you'll have plenty of time to meet with experts in your area. Space is limited and admission is free to the seminar, so to reserve your place contact Shannon or call 800-845-4533 for more information.

W. Springfield Log & Timber Home Show November 19-21 W. Springfield, Mass.
This log home show at the Eastern States Exposition grounds offers some tremendous opportunities to learn more about the log home lifestyle, manufacturers and what sets Katahdin Cedar Log Homes apart from other log homes. You'll have a chance to meet with our knowledgeable dealers from your area who can answer all your questions. For more information, click here.