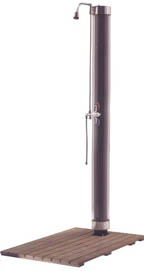 As we spend more time out of doors in warm weather, the appeal of an outdoor shower is obvious. Whether it's a simple solar heated unit attached to your garden hose an outdoor shower can clean up a muddy hiking crew, rinse garden clogs, or provide a resort-like spa experience for those so inclined.
We found a wide array of portable units that are sleek and reasonably portable. Most need no plumbing and work as far as your hose extends. Position one of the outdoor shower units next to a pool or hot tub to keep them cleaner, outside a mudroom entrance to rinse off after a session of weeding or a 20-mile bike ride. Many of the portable outdoor showers come with teak drain platforms and other accessories. Solar powered showers can provide quite a bit of hot water for lengthy showers. If you have young children or frequent guests, make sure your solar shower has an anti-scald feature, as the sun can produce pretty hot water.
You'll want to make sure that the water has somewhere to drain either a trenched "French" drain which leaches the water into a drain field underground away from structures, or a simple tile that carries the water away from the house.
For more permanent structures and a true spa experience, check out Vixen Hill's stunning cedar outdoor spas (pictured below). They'll need more expert plumbing and draining than the portable showers, but provide a luxurious outdoor facility that will enhance a summer vacation spot and add value to your home.