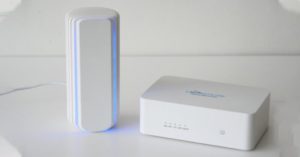 Spending several weeks inside during stay-at-home recommendations puts your home indoor air quality (IAQ) into sharp focus. With improved sealing and energy efficient designs, new Katahdin Cedar Log Homes require attention to IAQ options to keep your family healthy and safe. Panasonic's Cosmos™ healthy home system provides the integrated approach to maintain healthy IAQ in your home.
Why Add a Healthy Home System?
Most people don't realize just how unhealthy indoor air can be. With a tightly sealed, energy-efficient home, more toxins, bacteria and allergens can be trapped inside. In fact, poor indoor air quality is the fourth biggest environmental threat to health in the U.S. According to the EPA, normally most families spend 90% or more of their time inside where harmful air pollutants can be 2 to 5 times as high as outside air.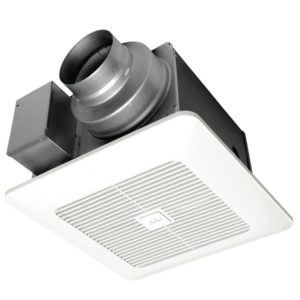 24/7 Monitoring
The heart of the Cosmos healthy home system is the monitoring sensors that continually test your home's inside air. The sensors manage levels of the most common toxins inside homes: volatile organic compounds VOCs, fine particulate matter, carbon dioxide & humidity. When levels are detected outside preset tolerances, the Cosmos Command Center activates ventilation automatically to cycle in fresh air and remove unhealthy air. The air monitors have color coded lights to alert when high levels of indoor air pollution are present. Once the Command center is alerted, it activates the linked components to refresh interior air. The Cosmos System coordinates with three products available from Panasonic:
WhisperGreen Select  — This all in one ventilation system uses Smart Flow Technology with adjustable flow selection to provide ventilation in any room. Often installed in bathrooms, laundry rooms and other high-humidity areas, the WhisperGreen is available in lighted or non-lighted models.
WhisperFresh Select is a fresh air filtering and ventilation unit that operates within your home's heating and cooling system to create balanced ventilation in tightly sealed homes. It's Pick-A-Flow™ selector allows airflow from 50 – 150 CFM to be adjusted to meet specific requirements.
WhisperHood IAQ— With five sleek styles Panasonic's range hood collection provides high-velocity ventilation with ultra-quiet technology to eliminate stale air, smoke and moisture from your kitchen.
Essential App Controls
The Cosmos system is easily controlled via a smartphone app, where controls can be preset for different conditions for extra ventilation and fresh air when you entertain guests.