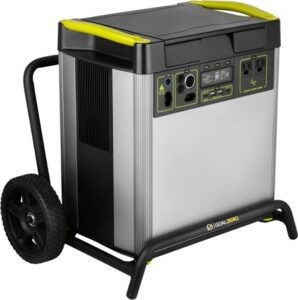 Looking for quiet, green back-up power for your Katahdin Cedar Log Home? A Goal Zero Yeti 6000x Portable Power Station may be the answer! This high capacity power station can replace a noisy gas fueled generator to power essential circuits in your home.  Or, bring power along with you to energized campers, trailers, off grid events— the Yeti's portability is a great feature!
Goal Zero uses interchangeable components to allow homeowners to customize their Yeti Power station with scalable power banks, solar charging panels and a home interface kit to connect with four essential circuits in your home. Whether the power goes out for a few hours or several days, these Goal Zero components can keep you comfortable and safe until power returns.
Powered by lithium ion batteries, the Yeti systems recharge from the power grid or via solar panels to remain in standby mode for extra power when you need it. If you need remote power at your vacation home or camp, the Goal Zero Yeti 6000X features seven versatile ports, including two industry-leading 2000W AC ports to run anything you'd plug into a wall outlet.
Check out Goal Zero's nifty accessories, including the Light-a-Life 350 LED light, which can be powered by a USB port using an adapter or automobile 12V port. The Sherpa 100AC power bank is a travel friendly power source that wirelessly charges phones as well a powering electronics via USB-C power delivery ports.