After many months or years dreaming about your dream log home, you're finally ready to start the process. That first meeting can be a little intimidating, especially if you've never built a home before. We spoke with several Katahdin Cedar Log Home Dealers to get their insights on what to bring into a meeting.
Meet before the meeting. Many couples start researching together, and along the way begin to develop their individual images of what their log home should look like. In the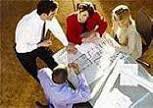 first meeting, many couples discover that they may not be on the same page after all. Make a plan to sit down with your spouse or partner to review what your vision is for your home. When you're both on the same page, it's easier to accomplish what you need in that first meeting.
Work the numbers. Know and understand what your budget is, and share it early on in the conversation. This first meeting can be a reality check for many couples, where the ideas and dreams may or may not align with the budget available. "Be honest about your budget and your timeframe," Lavonne Davis of KCLH Oklahoma said. "We can usually find ways to achieve customers' dreams, but the budget will determine just how much we can do." One thing many people don't understand at this early stage is that discussing a budget is not like negotiating for a pre-existing home or a new car. The cost of the log home package is based on the fixed cost of materials.
Collect your ideas and information. If you've started a notebook of features or have a photo gallery on your tablet of homes you like, bring it along. If you have your land, bring a developer's plot plan or municipal plat map with you to show your dealer. The lay of the land will determine the best home designs and you may be able to identify new layouts based on the features of your site. If you've identified websites or specific plans you like, bring that information along to review.
Communicate. Be prepared to talk about what you envision for your log home. The first meeting is a means to developing a rapport with your dealer and educating them on your plans and ideas. "For many people, building a home is like entering into a marriage with their dealer and builder," Christine Beausoleil of Custom Dream Homes in Pembroke N.H., explained. "That first meeting is very important, so ask plenty of questions," she added.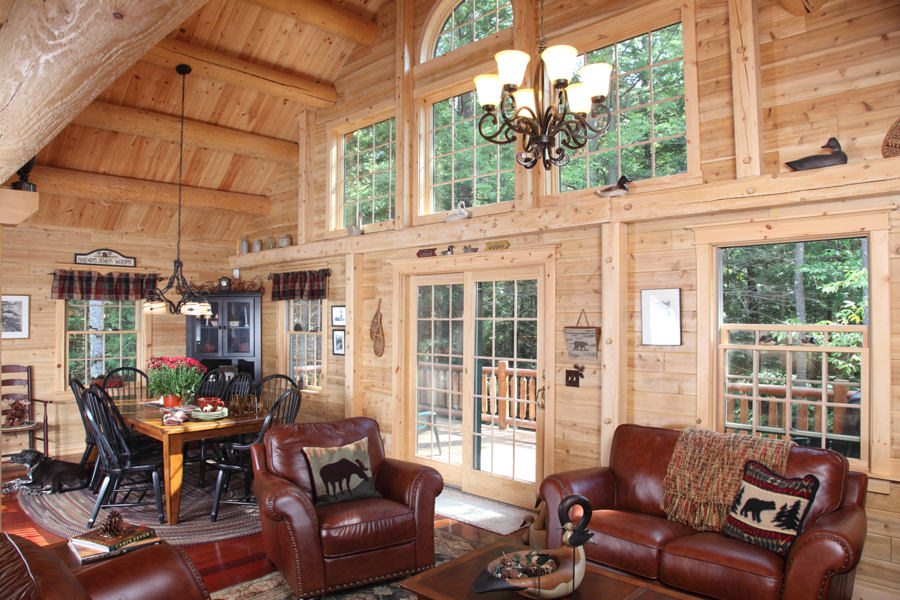 Use your dealer as a resource. Your experienced dealer will have plenty of hands-on information that will help to save you time and money. Questions about land, wells, codes, plans, maintenance, and construction details are in your dealer's knowledge base. "We can show you homes with features you're interested in and guide you to details you'll want to take note of while you're doing your research," Beausoleil added.
Understand how the relationship will work. For customers who live nearby the relationship can be pretty straightforward. But for clients who are building a second or retirement home located 3-4 hours away from their residence, the relationship and communication with the dealer takes a different course. Lynne Lassond, of Mountainview Construction in Pittsburg, N.H., usually has several phone and email conversations before meeting face to face for the first time. "At that point, we've identified many of the details about the ideas the customer has and we're visiting homes that have the features they're looking for," she said. Lassond's hands-on approach to managing building for distant customers gives her clients confidence that the process is in good hands. "I send photos to customers at the end of each week, so they can follow the progress." Setting up a regular communication plan at the beginning is one way to maintain open lines.
Share pertinent information. Vin Ritchie of Katahdin Log Homes of MA, in Hubbardston, Mass., suggests laying out details including: the need to sell your existing home; any mortgage and financing details you may have in hand; whether you have identified land and purchased it; and what you see as your idea of your home. "The biggest thing I do is listen," Ritchie explained. "Once I know what they need, then we can discuss how we get there," he concluded.
Don't be afraid to perform your due diligence. Ed Davis of KCLH of Oklahoma encourages his customers to research the people manufacturing and building their home. The Davises use Katahdin's Due Diligence worksheet and provide information about their suppliers and previous homes built to offer a complete picture of how they conduct business.
We've provided a peek at some of the questions and concerns that come up in initial consultations, but each case is different. The important thing is to feel comfortable and confident in the new relationship so that as challenges arise you're able to deal with them effectively.