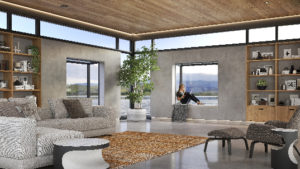 Homeowners are spending a lot of time indoors these days. Window manufacturer Marvin relied on extensive research and innovative designs to create two window products to enhance connections to outdoor light, air and scenery. These two new products debuted at the 2020 International Builders Show: Marvin Skycove and Marvin Awaken Skylight. Both are designed to help homeowners interact with their environment in new ways.
Skycove: A Cozy Gathering Spot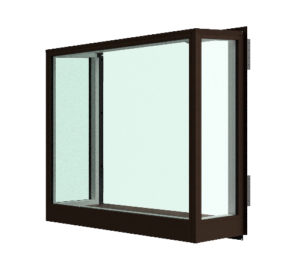 This fully constructed, glass pop-out structure expands interior space and offers an inviting place to gather. This pre-engineered space can comfortably seat one or more people on 16-20 square feet of space. The glass enclosure is cantilevered to offer unique views and perspectives of both sky and the surrounding grounds. Skycove's seating area is fully insulated and can be finished in a variety of ways. The proprietary minimalist frame surrounds dual- or available triple-pane glass. Low E-3 glass is also available to minimize solar gain. The frame has spacing to accommodate shades for privacy. The upper glass panel has a four-degree pitch and is tightly sealed to prevent leaks. Skycove arrives completely assembled with no additional pieces or parts needed.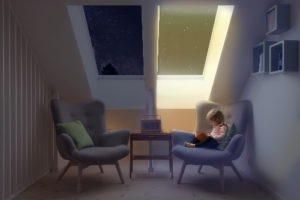 Smart Marvin Awaken Skylight
In log homes, it's important to add natural light to enhance the darker interior surfaces. The Marvin Awaken Skylight brings the benefits of natural light with a worry-free design. Awaken extends daylight glow long after sunset with soft, adjustable LED lighting. These smart skylights provide automatic regulation of indoor temperatures and air quality using environmental sensors to determine optimal opening and closing times. Homeowners can also operate the skylight using home smart assistants, a Marvin smartphone app or just a simple wall switch for manual operation. The Awaken Skylight also keeps bugs and debris out with perimeter screens that provide protection without blocking the view. Optional blackout or light filtering shades can control the amount of daylight transmission. With sizes up to 48 inches wide and 90 inches tall, these skylights are the largest available with curb or deck mounting options.
Window options like Skycove and Awaken Skylights are a wonderful way to expand the look and feel of your Katahdin Cedar Log Home. If you are considering including these options alert your design team to adjust your plans accordingly. These products are expected to be available mid-2020.