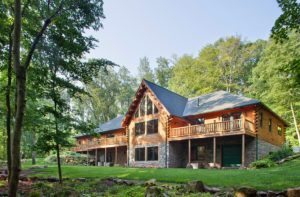 Our log home show schedule is wrapping up in April and May with great events for folks to learn more about Katahdin Cedar Log Homes. In April we'll travel to Harrisburg, Pa., with a final stop in May in Lake George, N.Y. We're also working hard to schedule our next Logapalooza event so stay tuned for more information.
Plus! Western Massachusetts Open House
Tour a newly completed Katahdin Cedar Log Home this Saturday, April 24, at 10:00 am – 2:00 pm in Charlemont, Mass. Our local dealer, Mike Carlson, construction professionals, and the homeowners will be on site and ready to answer all of your questions on design, manufacturing, construction, energy efficiency and how to get started on planning your own log home.
If you're new to log homes, these events are a great way to become better informed about Katahdin's dedication to quality, efficiency and great design. A visit to our beautiful Katahdin booth or log home open house gives you a chance to learn more about what makes our approach unique, including our commitment to energy efficiency and complete custom designed log home packages.
Take a moment to check out these log home shows and open house and stay tuned for more updates on our Events page.
Apr 20-22                   Harrisburg, Pa., Log & Timber Home Show
April 21                       Charlemont, Mass., Open House
May 4-6                      Lake George, N.Y., Log & Timber Home Show