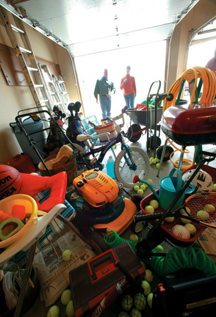 Keeping the garage organized is much easier with the broad selection of organization units available. Moving into a new log home offers the chance to reorganize your tools, lawn care items and other garage "stuff" so that you can actually park a car in the garage.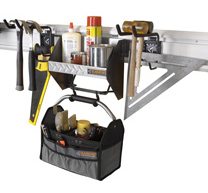 The first step for many homeowners hoping to organize is to clean out and empty the garage space. If you're moving to a new location, you'll need to sort through the clutter anyway so you may as well get started. Give yourself a deadline to motivate your activity. One way to get everyone moving is to run an ad for a garage sale, then work toward that day. Empty the garage and sort into three piles: keep, donate or discard. Once you have a better handle on just how much stuff you'll need to store in the new garage, you can start to plan the layout of shelving, cabinets and other components to keep things neat.
There are plenty of manufacturers who make complete systems or components to fit together in your garage. One company, Gladiator Garageworks  offers some terrific small units if you're looking just to square away small household tools and garden implements. If your garage includes a workshop space, the company also has workbenches, tool storage, and cabinets to complete a fully equipped shop.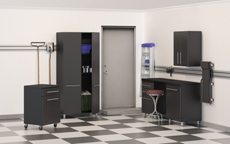 If your garage doesn't need much organizing, the Gladiator Project Caddy (above right) provides shelving, hooks and a utility bag to keep the basics in order. But, if you're looking to organize a large amount of tools and other equipment, Gladiator offers their Gear Track Channels that can be installed on the walls of your garage in most any configuration. Then hooks, shelves and other accessories can be slotted into the tracks to store everything neatly and in full view. The track system also has a number of accessories for hanging golf bags, storing soccer balls and other playtime equipment. The Gladiator website offers some nifty tools for planning out a complete garage storage system, as well.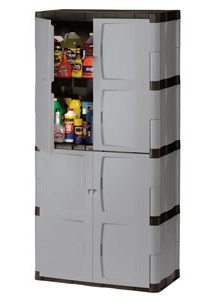 If cabinets are more your style, Ulti-MATE garage pro items offer the benefit of sleek design that incorporates 100% recycled and recovered materials in their stainless steel components.
If you're just looking to get some additional, inexpensive storage capacity from your garage space, you may want to consider the Rubbermaid collection of storage cabinets, fast-track organization systems and other tool and sports storage options in their garage organization page. They assemble easily and provide a neat, uncluttered look for any garage.