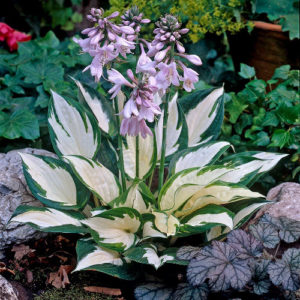 Homeowners often select wooded sites for their new Katahdin Cedar Log Homes. These wooded sites offer great advantages for mature trees and pleasant surroundings. Finding plantings for the shady areas that come with these wooded sites can be a challenge. We checked in with perennial pro White Flower Farm to identify superb plantings for shade that return and expand effortlessly year after year. Check out these colorful options: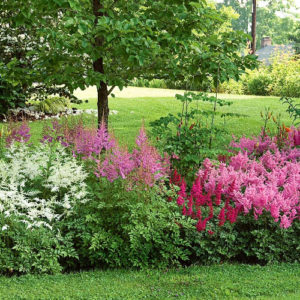 Hosta
Hardy and full of variety, hosta are excellent shade/part sun plants. They can help establish borders, shade delicate roots for climbing clematis and provide lots of ground cover. Some hosta display foliage only, while others like Fire and Ice sport lavender spires of flowers. Pick varieties that mix well with our overall color palette— hostas come in bluish-green green and white, and green and yellow combinations.
Astilbe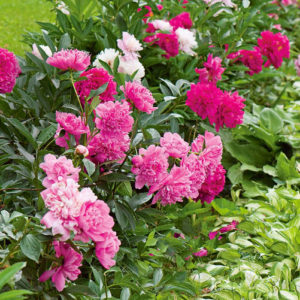 Tall, feathery flowers rise over delicate fronds in the perennial astilbe. These plants are best planted in "drifts" of colors. Once established these hardy shade lovers will provide reliable long-lasting color in the shadows.
Peonies
A favorite choice for old-fashioned gardens, Peonies produce showy, fragrant blooms in late spring to early summer. Their glossy leaves provide tall cover that takes your garden from spring bulbs to summer flowers.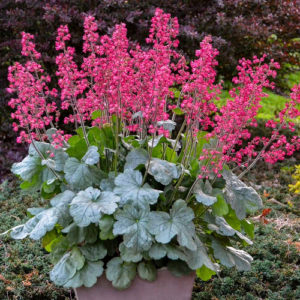 Heuchera
This low-profile plant has pretty variegated leaves that produce tall, delicate stalks of tiny bell-shaped flowers. A pretty border plant that doesn't block taller plants.
Pulmonaria
This showy perennial is nicknamed "Shrimps on the Barbie" for its bright pink crustacean-like flowers that overflow the dark variegated foliage below. This delightful plant can provide color and dimension to a shady garden plot.
The best thing about all these shade tolerant plantings is that they return year after year with little maintenance required.