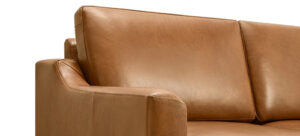 You've opted for a sustainable Katahdin Cedar Log Home, so why not consider sustainable furniture as well? We've identified several sustainable furniture sources as well as other options to consider. While many companies focus on a mid-century vibe, comfortable modular furniture can certainly add to your home's décor. Here are some great options for every room: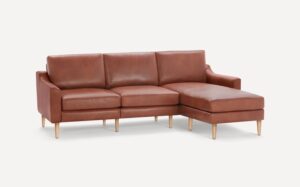 Reclaimed Furniture
Sustainable can often start with existing goods upcycled and reimagined as reclaimed furniture. One great source for reclaimed furniture is online retailer Etsy, with a reclaimed furniture section to help target furnishings that are both chic and sustainable.
Antiques
For craftsmanship and beauty, there's nothing like a good, solid antique desk or console. Their rich wood surfaces and interesting details make the occasional antique piece shine in log homes. For an excellent playbook on furnishing with antiques, check out this Katahdin Cedar Log Home owner who collects Victorian era furnishings for his stunning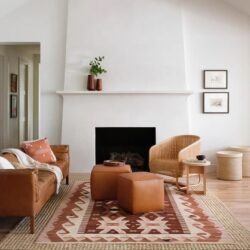 home.
New Furnishings with a Green Twist
For couches, chairs, tables and other essentials, Burrow is one manufacturer that makes a considerable splash. They offer both cloth and leather seating sectionals, sofas, ottomans and chairs. Free delivery is a plus and components are easily assembled.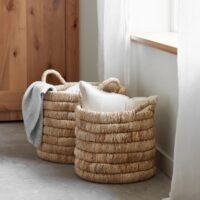 Shopping the World
For unique sustainable decorative pieces, The Citizenry shops the planet for unique handcrafted items to add flair to your interiors. Check out their collection of handwoven baskets and gorgeous woolen rugs for a stylish complement to your home furnishings.
Chemical Free and Handcrafted
Medley offers sectionals in tweedy fabrics that fit the more casual style of log home lifestyles. The fabrics are designed to be kid and pet friendly with repellent weaves to keep your furniture looking great for a long time. Featuring down-filled and memory foam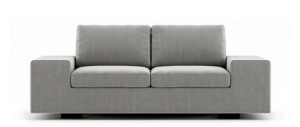 cushions, FSB-certified alder frames and no added chemicals or fire retardants, these furnishings have a lifetime warranty, with a 100-day trial and free returns. In addition to sofas, Medley also sells dining, bedroom and accent chairs.