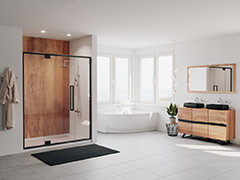 Shower spaces in Katahdin Cedar Log Homes have become design statements— with a wide array of design options, panels, sliding and swing doors. With so much to choose from we checked in with Coastal Shower Doors to see what aspects of shower doors you'll need to consider when selecting a design.
Determining Available Shower Area
When designing your Katahdin Cedar Log Home floor plan, you likely allotted space for showers and tubs in all the baths. Whether it's a traditionally sized shower area or a larger shower room, the space available will be part of the measurements. Part of the equation will be whether the shower will require special draining as explained in this article about linear drains. Getting those measurements accurately can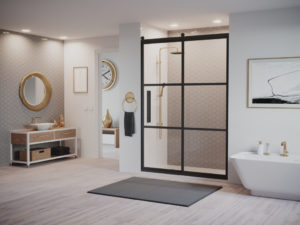 enable you to select the right design.
Open or Closed Shower Space
Shower doors will provide a closed area to minimize water flow outside the shower space. An open design will require expert draining and tiling to ensure water stays put. Open designs can be semi-enclosed with a fixed panel. These panels can be narrow or wider, depending on the shower assembly inside. If your shower features multiple shower heads hand held plus rain shower, it may be a good idea to opt for a larger panel. Closed designs can be of nearly any dimension and will feature a closure door or sliding panel.
One- or Two-sided
Shower enclosures can be constructed like small rooms, with two or more panel walls for a shower positioned in an open corner. Again, working with your designer and plumber can ensure that your floor plan specs will reflect your shower vision.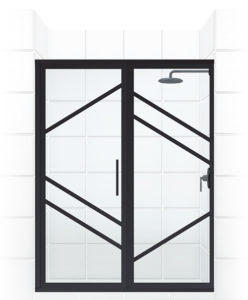 Selecting Doors
Doors are the most flexible part of a shower enclosure. At Coastal Doors, they offer sliding panel doors, swing doors and even French doors for grander shower access. Their Gridscape Collection is especially appealing for their clean, bold lines. Whether it's an outline style or the bolder mullioned grids, Gridscape can present a design aesthetic that complements any contemporary log home. One of the styles uses angled lines in place of the horizontal and vertical squares, which reflects the dramatic angles of Katahdin's trusses and purlin construction. Coastal Shower doors also makes frameless panes and doors to meet any style preference. Several glass options, clear and textured are available as well.
Sliding doors are preferable when there is limited space in front of the shower. Much like barn doors used as a space saving option, sliding panels or doors glide effortlessly to enclose the wet area of the shower.
Swing shower doors open like a door and can be either right- or left-opening.
French doors operate with a broad arc to provide double access to the shower space. These are likely best suited to oversized master baths with plenty of floor space to accommodate the arc of the doors.
Whatever your dream shower is, there's a shower door or shower panel solution with Coastal Shower Doors. Their design team provides precise layout instructions to guide the direction in your Katahdin Cedar Log Home.