Hi everyone and Happy Tuesday! We're very busy right now getting ready for all the exciting events we have coming up but we'd never forget about your Trade Tip. Let's get right into it. Today's Trade Tip is: Don't Be Afraid of Different Materials!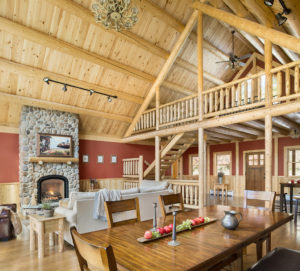 Obviously, here at Katahdin Cedar Log Homes we love logs. From the sturdiness they lend the exterior log walls, to the majesty they give the sweeping purlin roof structures, and the warmth they give the interior walls, we love it all. There's a reason why we are a log home company. But that's not to say you should be limited to ONLY wood. We have seen great and creative uses of different materials by our customers in their log homes and we think this use of other materials actually shows the wood off more.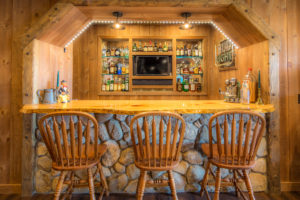 So, when you're thinking of how you're going to finish the interior of your home, don't be afraid to look at some different materials. Painted sheetrock can add a much-needed pop of color to break up a space. Stone can make even basement spaces feel more epic. And there's definitely ways you can incorporate tile that go beyond the bathroom. Speak to your dealer and builder for more ideas on how you can add some different materials to your log home.
Well, that's it for us this week! Tune in next week for another Trade Tip. And keep your eyes peeled on our Events page, we'd love to see you at one of our upcoming Open Houses or Logapalooza!