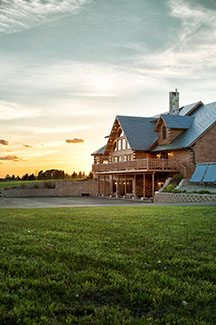 In last month's issue we provided insights into the methodology of pricing your Katahdin Cedar Log Home. Today, we reverse the mirror and look at pricing from the customer's prospective, courtesy of two of our dealers, Bill Ryan, owner of North Point Contracting in Arundel, Me., and Christine Beausoleil owner of Custom Dream Homes of Pembroke, N.H. We also spoke with Shannon Hersey, Log Home Planning Specialist, based in Oakfield at Katahdin's headquarters. All have built a loyal customer base over many years of guiding homeowners through the experience of building a log home.
Because pricing is one of the very first questions most customers have, it can be a delicate icebreaker. "I always ask about a customer's budget first thing," said Beausoleil. "It can be uncomfortable, but if we don't get that information upfront, then they are set up for disappointment," she explained. "We want to stay realistic." Beausoleil went on to explain that like each client, each budget is different. "We don't aim to exceed budget, but to meet it and stay realistic."
Ryan noted that his customers want "a general rule of thumb" for overall costs. Even that can get tricky, as the land and infrastructure can provide significant unknowns, such as ledge, well drilling, and other factors. The size of the footprint of a home can also increase costs without really adding equivalent livable space he noted. A single-story 2,500 square foot home can have considerably more foundation, wiring, plumbing and other costs when compared to a two-story home with the same square footage. He finds that there's a sweet spot of around $250,000 to $275,000 that really delivers the best "bang for the buck." Sometimes, saving $50,000 on a home design can feel like $200,000 less.
"Most people come in with a plan in mind," said Hersey. Customers can also arrive with some misconceptions. There are so many factors involved in pricing, "it's important not to focus too hard on the bottom line price," she explained. Since each log home is a custom design, pricing can take a few go-arounds to balance desires and budget. "Some folks have been led to believe that cedar logs make it more expensive, which is not true," Hersey said. Because Katahdin is one of the largest processors of Northern White Cedar in North America, we don't have to special-order cedar logs like other predominantly pine log home companies. "The on-site labor savings that our packages provide also enable us to be very competitive in total log home cost," she added, referring to the pre-cut, predrilled computerized logs manufactured by Katahdin.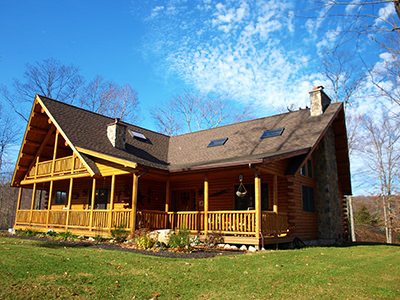 Log Package and Total Cost
When allocating a share of the total cost, customers come to understand that the log package is generally about a third of the total cost, excluding land. The balance of land and infrastructure, finishing details, labor, kitchen and bath fixtures and other amenities can determine the direction of designing and constructing a log home package. This conversation relies on a dealer's experience and their ability to understand the personalities of the customers.
"One thing I tell my customers is that this relationship will be like being married for the time it takes to go from drawings to a finished Katahdin log home," Beausoleil explains. She relies heavily on her sense of the customer's likes and dislikes to guide them toward solutions that work within their budget. "For example, once I've spent some time with a customer, I can tailor the conversation to either shopping at the Sears Outlet for scratch and dent appliances or reviewing custom cabinetry options. It's all about getting into a customer's head to understand how to meet his or her needs," she added.
Hersey also takes cues from what a customer tells her. "It's all about a customer being honest about their budget," she explained. One way to better understand one's budget is to visit a mortgage lender and get pre-qualified. For many people that is the reality check, based on the totality of their financial picture. "The sooner we get the complete picture of the budget, the easier it is to assist a customer in translating their needs and wants into a Katahdin package they will be happy with."
Ryan also noted that there are a few aspects that can either save money or significantly increase costs because of the labor involved in achieving the desired result. For example, smaller dog house-style dormers can add exterior interest to a roofline, as well as add light into a second floor or loft area. However, dormers can add hours of labor costs onsite. Ryan noted that perhaps a better way to use that money is to construct fewer, but larger, dormers or use skylights to add light into upper floors.
Each of the dealers noted that the pricing process may take a few rounds of estimates, with sometimes significant fine-tuning along the way. While each of their approaches were a little different, the end result is their desire to provide the Katahdin log home their customers desire within a reasonable budget.