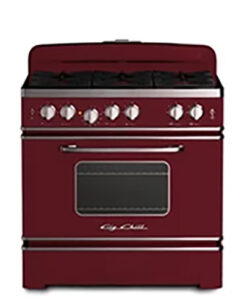 Kitchen appliances are always at the forefront of new designs. The innovations can be a bit of a moving target for Katahdin Cedar Log Home owners, but we highlight some of the most interesting trends we spotted.
New Color Palettes
The reign of all stainless may be waning in newly designed kitchens. Manufacturers are playing with palettes that delight and inspire.
Farmhouse Luxury — Big Chill appliances, known for their retro designs, have developed a Farmhouse Luxury line of colors and styles to combine rustic and chic. Colors include Light Ivory, Yellow Grey, Wine Red, and Olive Green, which all create an exceptionally coordinated kitchen.
Gray Tones — GE Appliance's Slate Collection uses a dark brushed metal matte finish that is fingerprint resistant with stainless handles and accents.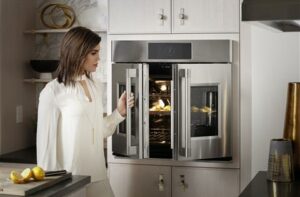 Wall Ovens Evolve
With induction cooktops growing in popularity, wall ovens are a necessity for your baking needs.
French Door Ovens — Inspired by professional ovens, these attractive ovens from GE Monogram are precision engineered to allow one-handed opening with ease.
Steam & Convection Ovens — One of the challenges for using steam and convection effectively is deciding which technique will be optimal for the dish. Enter the Wolf Convection Steam wall oven, which offers sensors and controls that make great results guess-work free.
Glide Touch Controls
Taking a cue from Smartphone technology induction stove tops offer glide touch controls that provide a better visual cue to heat control for induction surfaces. GE Monogram's Induction Cooktop features a subtle grey surface with sleek controls and burner delineation.