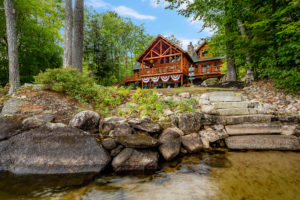 Choosing a log home manufacturer is a big decision. That's why we're confident that once you compare Katahdin Cedar Log Homes to any other log home maker, you'll choose wisely. Here are some of the reasons why we remain the top choice for log home enthusiasts across the U.S.
Northern White Cedar
Yes, we can't say it enough! Northern White Cedar is the optimal log to use for constructing your log home. We start with a log that is naturally insect-, mold- and mildew-resistant. Northern White Cedar's natural oils protect the trees from pests and fungi in the wild—and in your home, it has the same effect! That means you can skip treatments with harsh chemicals and insecticides to maintain your home.
A Dry Log is a Good Log
Green cedar has about 25% less water content when compared to green pine. Because of this lower water content, Katahdin is able to air dry cedar logs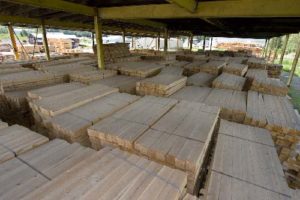 fairly quickly, in about three months. This natural drying allows the wood fibers to acclimate to the surrounding air keeping the fibers strong and intact. Depending on the weather, we'll often "finish" the air-dried logs in our biomass powered kiln to a 12-14% moisture level to mirror surrounding air moisture and keep the log stable. In comparison, pine's much higher water content requires kiln drying to force the water out quickly. Even after kiln drying, pine needs time to acclimate to the surrounding ambient humidity, often resulting in shrinkage and cracking.
Our Focus on Money-Saving Energy Efficiency
Because our cedar logs are so stable, we are able to enhance Northern White Cedar's natural high R-value with added insulation with our Energy Envelope System. The ability to ensure a tightly sealed home with excellent insulation and designs that save you money every day, we provide an added value of stability in an uncertain energy market. Add that to our integration capabilities for solar and other alternative energy features, and you'll achieve the level of efficiency and savings you desire.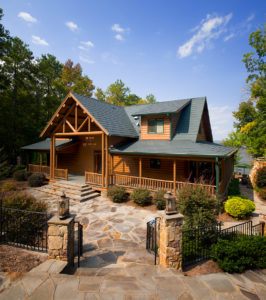 Environmentally Sustainable
As the continent's largest processor, we understand that Northern White Cedar is one of the least threatened tree species in North America. It grows well on its own and thrives in areas not hospitable to other species, like wetlands. With their location on the doorstep to some of the largest stretches of timberland in the US, Katahdin is able to access plenty of log stock without having to haul them long distances. 
We Walk the Walk with Green Practices
Ever since Katahdin was founded, we've created eco-friendly systems to make use of the entire tree. From bark mulch to using sawdust and scrap to fuel our biomass boiler, we take recycling seriously. We have a use for all grades of cedar, using top grades for log wall stock and lesser grades for fencing and Cedar Ideas products.
Hundreds of Floor Plans to Get You Started
Once you understand the benefits of cedar, it's exciting to get started on your log home design! A great place to start is our Design Your Own Log Home page to identify the features and styles that appeal the most. If you can't find the perfect plan from the hundreds on the website, don't fret. Most of our homes are custom designed using an existing plan as a starting point, with tweaks and added features you can call your own.
Computerized Precision Manufacturing
Once your plan is finalized, the computer designs are transferred to the house manufacturing line to be prepared, log by log. Each log is planed for the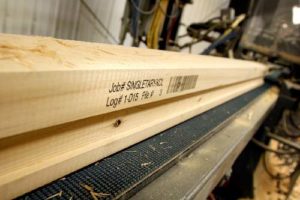 final profile, notched, drilled and shaped to take its unique place in the design. Each log is also stamped with its identifying number and barcode that syncs up with your plans. As the logs are prepared, they are stacked in bundles in roughly the order they will be used— with a few exceptions— so there's no need to unpack and sort before commencing construction. Just that feature alone can save lots of man hours and keep your unused log stock protected in their original covering.
Most Complete Package
One of the most confusing things about buying a log home is figuring out which suppliers include in their packages. We keep it simple by providing the most complete package, enabling your builder to have all the log home package essentials right there on the jobsite. If you're confused about comparing apples to apples between quotes, we can help you sort out quotes for your plan using the Katahdin Challenge. This is a great tool to assist our customers in understanding the real cost of some barebones packages.
Ready to learn more? Contact us directly and we'll set you up with a dealer in your area. If there's no dealer in your area, we can get started on your Katahdin Cedar Log Home with our knowledgeable sales team here in Oakfield, Me.