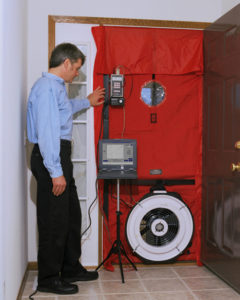 Katahdin's Energy Envelope System is the perfect way to upgrade your log home's efficiency. One aspect of adding this insulating barrier is to make sure that each joint is well-sealed to prevent air leakage.
Air leaking in through tiny gaps and cracks can reduce your insulation effectiveness, adversely affect indoor air quality, and make rooms seem drafty. That's why smart homeowners include a blower door test to double-check the tightness of the log home's exterior walls, ceilings and roof systems. Finding the tiny gaps before the interior walls are finished out can save time and money.
What is a Blower Door Test?
A blower door test uses specialized tools to analyze the transfer of air and energy from outside to inside your home. Blower door tests are conducted by home energy auditors as a way to test a home's efficiency. Here's how it works:
A blower door fan is installed in the main doorway. All other doors, windows and vents are closed tightly. The blower door fan is directed to blow air outside.
When the powerful fan is energized, it creates a negative air pressure inside the structure. Once the inside air pressure reaches a designated pounds-per-square-inch (PSI) pressure, the auditor begins the scan.
Using an infrared thermal imaging camera, the auditor will view the inside surfaces of each room in the home. A leak or insufficient insulation is indicated by a different color than the surrounding area. In this way, a blower door test scan can "see" behind sheetrock and other improvements in existing homes. When used during construction, the scan can identify where seals or penetrations are improperly finished.
Another thing to note while the infrared camera is scanning is the continuous insulating properties of the full log walls in your Katahdin Cedar Log Home. In conventionally framed homes, 2×6 framing actually conducts heat between insulation. This is called thermal bridging, which is why log homes, in general, feel much more cozy than framed homes.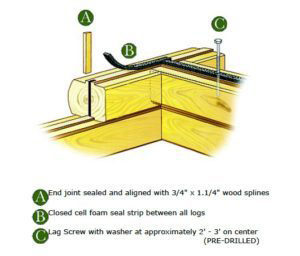 Attention to Detail is Key
Your experienced log home builder is key to getting your home's Energy Envelope System to perform the way it is designed. From using the correct amount of foam seal bead between logs, to taping and sealing each seam in the insulation sheets, your log home contractor's craftmanship will be evident in the results of a blower door test. A reputable contractor will want to check their work, as there's likely a seal or a small section that was inadvertently missed. For more complex homes like this LEED Platinum Arborwall home, a total of three blower door tests were conducted before the envelope was deemed sealed.
Air Sealing & Indoor Air Quality
The relationship between air sealing and excellent indoor air quality is an important factor to understand. When a log home is not well sealed, outside air can seep into areas and circulate throughout the house. This uncontrolled exchange of air  can increase the presence of allergens, particulates, bacteria and mold. These air pollutants that leak inside bypass the filters and any air purification that you might have installed in your heating and cooling systems. For families with asthma seasonal allergies or other respiratory issues, air sealing can make a big difference!
Include Proper Ventilation
A tight and energy efficient home requires a balanced and properly-sized ventilation system. Spot ventilation in kitchens and bathrooms can exhaust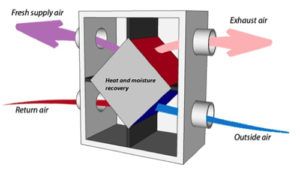 combustion gases and excess moisture from the home. For well-sealed energy efficient homes, it's essential that additional ventilation be installed that meets the air exchange per hour demands of the home. Energy Recovery Ventilation (ERV) and Heat Recovery Ventilation (HRV) units refresh indoor air with filtered outside air, while conserving the energy in the inside, conditioned air. Check out this article about managing indoor air flow for more details about ventilation. Also, if your furnace or water heater burns fuel to heat, you'll want to ensure that these appliances have their own dedicated air supply to avoid dangerous backdraft issues.
With today's uncertain fuel markets and fluctuating costs, it's never been more important to ensure your Katahdin Cedar Log Home is as efficient as it can be. There is a broad range of options that can be combined to yield a comfortable and efficient home. Employing trusted building science to back up these strategies is a smart way to ensure your home is performing properly from the very first day.