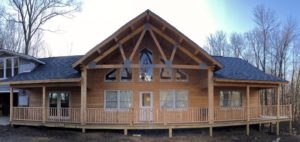 We've been following the family home project that Steve Dearlove, of The Dearlove Company started last spring in the Buckeye Lake area in east-central Ohio. As an Arborwall Solid Cedar Home dealer, he's especially excited to see the final finish work on this terrific year-round home. He's also enthusiastic about the progress that's being made on improvements to the Buckeye Lake dam and other activities that will allow water sports enthusiasts to once more enjoy the lake he enjoyed for so many summers. It is Steve's plan to use his new family home as a showcase for the quality construction and unique appeal of Arborwall homes. We've included a few recent photographs of Steve's home and links at the end of this article to previous stories. Steve will be holding open houses in the coming months, so we'll keep you posted!
What's Happening at Buckeye Lake?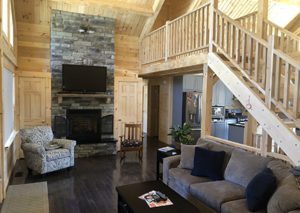 Buckeye Lake State Park is the oldest state park in Ohio. Its namesake, Buckeye Lake, stretches over Fairfield, Licking and Perry counties and measures approximately 4 miles long. It was originally constructed in 1825 as a feeder lake for the Erie Canal system. In 2015, the Army Corps of Engineers condemned the dam, which was showing signs of failure. Over the years, cottages and docks were constructed on top of the earthen dam and along with time, these structures contributed to its deterioration. The $150 million reconstruction project has been ongoing and is expected to reach completion in the next 12-15 months. During the reconstruction and repair of the dam and throughout the 2017-18 winter, water levels were allowed to remain low to allow for ongoing reconstruction and reinforcement work.  Recently, according to the Buckeye Lake 2030 organization, Buckeye Lake counties have received state funding to improve water quality and access.
As water levels diminished, activity on the lake slowed, with many cottages falling into disuse. The area is awakening again, with many cottage owners updating or rebuilding family cottages for more modern amenities and space requirements. Now that Buckeye Lake is reaching its "full pool" levels, water sports enthusiasts are returning to the lake to create new memories.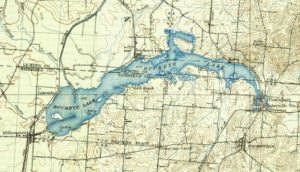 Time for "Full Pool" Celebrations!
As Buckeye Lake returns to "full pool" levels, boaters can once again enjoy activities on this beautiful lake. Ongoing dredging is projected to improve the lake's depth and water quality, and allow many more visitors to enjoy water skiing, fishing, sailing and bird watching. To celebrate the accumulation of enough water to allow boating activities, the Buckeye Lake Chamber of Commerce is holding their Full Pool Breakfast April 27, 7-9:00 am at the Buckeye Lake Yacht Club.  A breakfast buffet is available for $18. Reservations for Chamber members and their guests are needed by April 24. There will be several speakers and presentation about the upcoming 2018 summer season. Contact Steve Dearlove (sdearlove@ymail.com) if you'd like to learn more. Here are links to two previous articles: