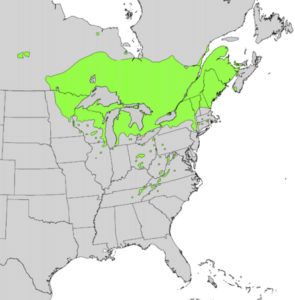 You may have heard talk of the building supplies shortage resulting from the current construction boom. While supply chains have been strained for dimensional lumber (like 2 x 4s) and some supplies due to the pandemic and increased demand, your plans for construction with Katahdin Cedar Log Homes are better situated than traditional framed construction — and even other log home manufacturers. Here's why:
Inventory Control
The primary element of any log home package is the log wall stock. This is another advantage to our investment in Northern White Cedar. As one of the top processors of Northern White Cedar in North America, we've got direct access to the largest stands of cedar in the northeast through three access points in the state of Maine: Chester, Oakfield and Ashland. Other log home companies need to outsource their log stock for the most part. For pine log home manufacturers, they're competing with dimensional lumber sawmills for whole log stock. Our purchasing power for raw cedar logs puts us at a distinct advantage over competitors who need value-added logs for their log homes.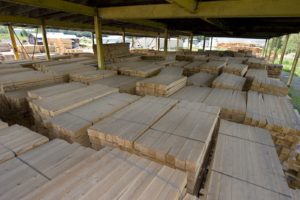 Cost Benefits
Log home packages are more stable in pricing. In general, log home package pricing is not increasing at the accelerated rate that conventionally constructed homes are experiencing because the majority of a log home is constructed of log stock. At Katahdin, we have an ample and well-established supply chain for Northern White Cedar, with drying sheds filled with log stock for log homes.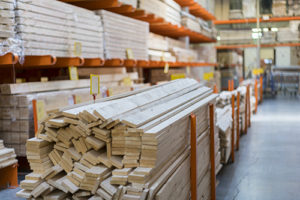 Timing is Everything
Dimensional lumber is at a premium right now, with demand high, and pricing is generally guaranteed for as little as five days. This is why Katahdin pre-production contracts now state that the customer agrees to receive materials "as available" and if unable to receive materials that they may not be available at a later date. What this means for site planning is that it's important to make space for materials being drop shipped before they arrive. This can get to be tricky on smaller or sloping lots without much cleared level space. Your contractor may need to bring a storage container on site for temporary storage, or plan for crew ride sharing to reduce parking demand. Or, some materials may need to be drop shipped and stored off site until needed.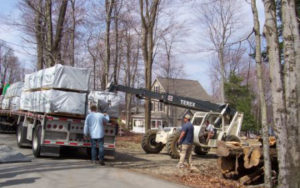 Strong Vendor Relationships
One of the benefits of working with Katahdin Cedar Log Homes is the care they have taken to develop strong relationships with well-established vendors. We focus on quality products that have withstood the tests of time. These relationships are essential to providing our customers with all the elements they need. With direct drop shipments that are included in your package contract, this means that your builder is freed from having to source locally for high-demand products. We've found over the past year, that delivery times for direct drop ship materials have remained consistent and we feel fortunate to have these strong relationships in place.
The bottom line is that despite the dramatic demands the present home construction market has, our forward-thinking business plan makes building a Katahdin Cedar Log Home a smart choice in challenging times.