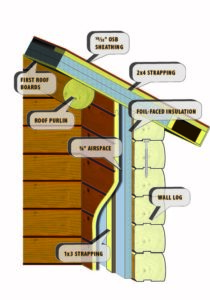 When the temperatures drop and energy prices rise, it's a great feeling to know that your Katahdin Cedar Log Home offers superb energy efficiency with our Energy Envelope System. So, how are we able to meet and potentially exceed efficiency requirements? Here's the lowdown on the latest energy efficiency requirements and benefits.
Efficiency Starts with a Stable Log
The Northern White Cedar we use for wall log stock has natural insulation value, the highest per inch among timber used for log homes. It's also very low in moisture—an average of 12% after air drying and kiln finishing. The low-moisture cedar log is acclimated to the surrounding atmospheric moisture, meaning little shrinkage and more stability. With these stable logs, Katahdin is able to add to the natural insulation value inside the walls and the roof to bring the R-value to the code requirements in your area.
Air Sealing Helps Insulation Perform
Ensuring that each seam on the exterior log walls is sealed to keep outside air from seeping in is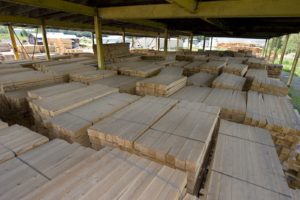 another reason Katahdin's Energy Envelope System is so effective. With proper air sealing, your home's exterior "envelope" is a barrier to energy loss and air infiltration. Once the exterior shell is closed in, a blower door test can identify any missing sealing or unforeseen gaps in the home envelope. A blower door test places a large powerful fan in an exit door to lower the interior pressure of the structure. An infrared imaging camera is then used to see where outside air is being drawn in, and where insulation may be missing. It's a valuable tool to ensure good air sealing and effective insulation.
Benefits of Enhanced Energy Efficiency
Besides the ability to manage your energy costs, ensuring your home is built with efficiency in mind will save money year after year— and can really add up! Log homes that are equipped with excellent insulation and lower bills will be more attractive to future buyers and garner a higher return.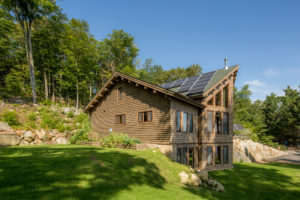 Hire a Certified Energy Rater to Ensure Efficiency
Not sure exactly how to proceed with ensuring your Katahdin Cedar Log Home is taking advantage of all the efficiency potential available? Consider hiring a RESNET Certified Energy Rater who can assist with design, inspections and blower door testing to ensure a well-sealed home. A RESNET rater can provide a HERS rating to show how your home compares to other similar homes in your area, another useful resale tool.
Extended Federal Solar Tax Credits
One of the benefits included in the December 2020 legislation for COVID relief was a two-year extension of the federal tax credit of the total cost for residential solar installations. The credit is 26% for installations made by December 31, 2021, with 22% for installations done in 2022.  If you plan to build in the next two years, this tax law offers a significant benefit, and can be spread over two tax years. Our Solar Ready option can assist in developing a plan to take advantage of the benefits of solar power generation.