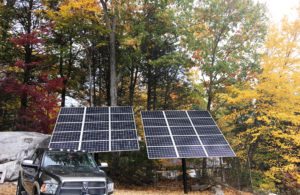 Gathering the sun's energy via solar panel systems continues to be a viable solution for homeowners who want to reduce reliance on fossil fuels and control the cost of powering their homes. One option that is gaining popularity is community solar, which offers Katahdin Cedar Log Home owners access to solar energy remotely. This is a great solution for those whose lots, orientation or roof pitch limits the viability of a roof- or ground-mount solar array.
Over the years, our enthusiasm for solar has identified many solutions for Katahdin Cedar Log Home customers, ranging from solar design integration through our Solar Ready program as well as sourcing out solutions for masking the modern look of solar panel rooftop arrays with Sistine Solar panels. Community solar offers a third option in states where available. Two key market characteristics for community solar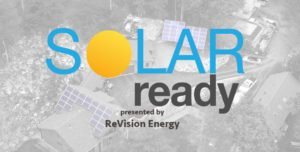 development include: virtual net metering and requirements for utilities to connect distributed solar panel arrays to the grid.
What is Community Solar?
According to the Solar Energy Industries Association, community solar refers to local solar facilities shared by multiple community subscribers who receive credit on their electricity bills for their share of the power produced. We spoke with Phil Coupe, Co-founder of ReVision Energy to see how community solar programs work.
He explained that there are two types of community solar models currently available: ownership and subscription. "We favor this ownership model for several reasons," Coupe said. "Ownership in a community solar project offers the maximum financial benefits of solar over time as well as access to valuable Federal Tax credits." (Tax credits remain at 26% for 2020 and drop to 22% of the total in 2021.) The big long-term benefit for any solar project is that the owner is able to lock in the cost of power over 25 or more years.
Another key to the community solar ownership model is that it provides power and keeps energy money local. "In Maine, we export about $6 million to import fossil fuels. Community solar bucks that trend," Coupe said.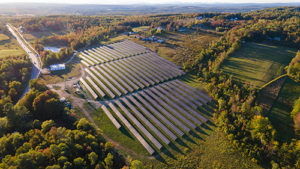 Community Solar Ownership
In this model, the solar developer will review current electricity consumption as well as any immediate future additions, like an electric vehicle or heat pumps. With this annual kilowatt usage, the solar representative will determine the number of shares to cover part or all of the power demands of the household. Some homeowners want to defray half of their power usage through solar, while others purchase shares with 110% of usage to build in for future changes in lifestyle. Whatever the level of shares, the community solar contract is comparable to a condominium purchase, commonly with a term of 25 years, with two or more 5-year extensions.
The contract delineates a yearly membership fee to cover maintenance costs, service and insurance, with escalators after year 5 to account for inflation. The land where the community solar array is located is usually a leased parcel of at least 5 acres, with easy access to high power, 3-phase transmission lines. Community solar share owners may reside in the same utility service area as the solar array. Shares can be sold outright or transferred to another home location, as long as the ownership remains in the same utility service area.
Financing Available
Revision's solar advisor Mike Sweeney explained that even with 15-year amortized financing, the savings over the 25-year contract period would average $13,000 based solely on the current rate, plus a modest 3% increase for inflation. When financing a community solar share, the federal tax credits apply for the total investment cost and can be deducted over more than one year.
Community Solar Subscription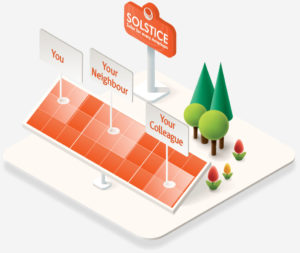 Another way to access solar power is through a community solar subscription. The benefits for this program are no up-front investment, a foothold in the solar generation community and a modest cost savings of around 10% to your monthly electricity bill. Solar management companies act as brokers between community solar developers and consumers. We spoke with Scott Becker of Solstice US, a community solar power subscription company, about their subscription model. Solstice offers access to clean solar energy for the 80% of Americans who don't have access to solar because of:
Ownership — customers who rent or live in condos
Upfront Cost — can't afford the investment to own solar
Structure —location, orientation or shading prohibit solar panels
Subscriptions are Easy!
First locate a community solar farm in your area. Becker suggests the easiest way is to search for "community solar near me." If your state is one that supports the elements required for community solar development, you'll be able to locate a community solar farm nearby. Like ownership, subscription community solar requires the solar farm be located within the same utility service area as the subscriber. While there are 16 states in the US that currently support the elements for community solar, there may not be a solar project in your area.
Once you locate a solar subscription company, like Solstice, the rest takes just a few minutes to complete. Becker emphasizes that "there is zero out of pocket cost for the subscriber." Companies like Solstice provide a customer base and management for community solar developers, handling billing, customer support and marketing. If you decide to try the subscription model, you'll receive two bills, one from the utility detailing your power consumption and the second invoice from Solstice reflecting your 10% discount. Becker explains that companies like Solstice break down the cost barriers to taking advantage of solar for families no matter what income bracket.
The solar power industry keeps evolving and offering great options for Katahdin Cedar Log Home customers to incorporate alternative energy into their new log homes.