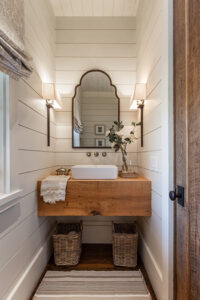 Powder rooms are small spaces that can have a big impact on your guests. And because there's so much wall finishing flexibility in Katahdin Cedar Log Homes, the sky's the limit for powder room décor. 
Start with the Walls 
Because these spaces are usually pretty cozy, opting to whitewash the cedar tongue and groove paneling can bright the space up. Also, opting for higher ceilings by tucking the powder room under a staircase can give the feel of more space without taking up valuable square footage. Bold finishes are another direction to take with walls —sheetrock paired with wallpaper or bold paint colors can set the tone for your impressive guest bathroom. Glass or ceramic tile on the walls can also provide powder room oomph. 
Flooring Fun 
Again, because of the relatively small area, selecting big impact flooring can appease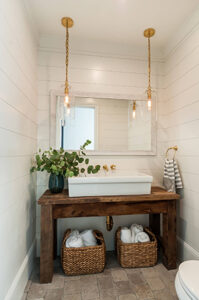 the inner designer without breaking the budget. Here's the spot for those beautiful hand painted tiles or luxurious marble floors. Bold floor design works well in these small spaces so don't be afraid to select something outside your normal palette. Not ready for the drama yet? Opt for a colorful washable rug to brighten the bathroom. 
Fixtures for Beauty and Function 
Log homes work well with natural materials so consider a marble countertop for the sink vanity or a sink formed from stone for a Zen spa feeling. Avoid sink faucets that are so modern that it's hard to figure out how to turn them on— stick with simple lines and obvious hot and cold so guests can feel comfortable. Space saving wall mounted commodes and floating vanities can also provide visual cues that make a small space feel more open.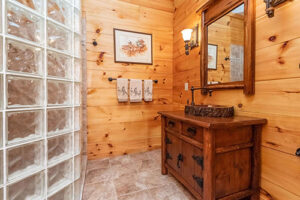 Statement Mirror 
Here's where design can really take a hand. Opt for an oversized mirror and elegant lighting to set the stage in your powder room. Source antique shops for vintage frames to create your own decorative mirror.  
Natural Light Options 
Natural daylight is a smart choice for these small rooms and an ideal location for glass block window treatments. Other great choices are fixed windows located high on the wall for light and privacy. Window treatments like slim shades can also adjust for privacy or added illumination. 
No matter how you decorate your powder room, these small spaces allow for frequent updates and changes at minimal costs.