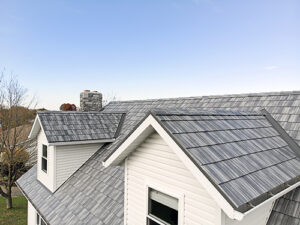 We love the durability of metal roofs but many Katahdin Cedar Log Home owners are put off by the industrial look of standing seam metal roofs. A new entry into the metal roof industry offers high quality, great looks and excellent resistance to storm damage: door and window manufacturer, ProVia took their metal roofing to the next level, creating attractive shake and slate metal panels designed specifically for ease of installation.
Stamped Panel Metal Roofing Systems Deliver
Using heavy 26-gauge recycled steel ProVia stamps each panel with details and definition to recreate the look of shake or slate shingles. The steel is thicker than competitive steel shingle products, yet is still lightweight enough to easily install, weighing less than comparable sized asphalt shingles. The exclusive GalvaTec™ finish produces a hardened resin-based surface that guards against algae formation and black streaks that afflict many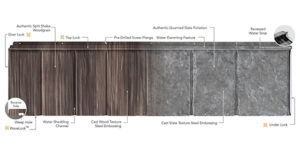 asphalt shingle roofs. The durable finishes are available in four colors with coordinating solid and patterned trim options. In addition to good looks, the finish can save energy with its highly reflective surface that re-emits solar radiation.
Created with Easy Installation in Mind
The downside of most metal roof systems is the time- and labor-consuming process of on-site fabrication and shaping. This is especially complicated with the complex roof lines found on many Katahdin Cedar Log Homes. ProVia's system uses preformed starter panels that are ready right out of the box. Each panel uses a 4-point locking system that provides edge-to-edge security protecting against wind uplift and impacts common with severe weather. The ProVia metal roof system is rated Class 90, meaning it can withstand winds of up to 180 mph. These third-party ratings mean that ProVia metal shingles are approved for Florida's tough  High Velocity Hurricane Zones.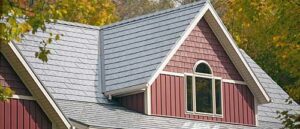 Design Intensive Roofing System
At the outset the development team at ProVia worked to create an authentic replication of classic wooden shakes and slate tiles. They worked from actual samples of shake and slate to create the most beautiful texture and variegation to mimic the surfaces found in wood and stone materials.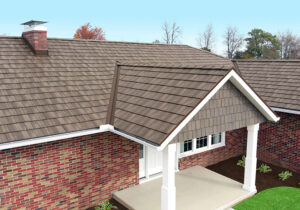 Peace of Mind
ProVia's limited lifetime non-prorated warranty and workmanship warranty through the Installer Certification Program takes the guarantee of product quality and workmanship to the next level. To locate a ProVia metal roof installer near you, click here for their dealer finder tool.