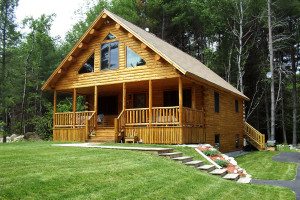 Many log home enthusiasts hope to build a small log home. The reasons can be a diverse— to downsize, live more simply, or fit their budget. But a log home under 2000 square feet doesn't mean you have to sacrifice comfort! Smaller homes can pack a big punch if you're focused on your specific needs.
Conduct a Spatial Assessment
Looking at how you use inside space can often help you  prioritize your smaller home needs. Divide your home space needs into basic categories: Bedroom, Bathroom, Great Room, Kitchen, and Storage. Now figure out how much time you use each. Each day has 24 hours, with an average of eight hours spent outside your home. That leaves 16 hours of time spent inside the home.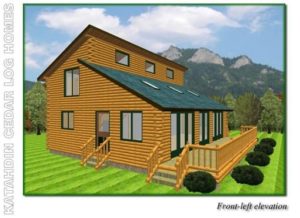 Allot 8 hours to sleeping or approximately 50% of your available hours. Bathroom use might account for another hour for showering and hygiene or about 6.25% of your day. The great room combines living and dining functions— for many people about 4 hours each day or 25%. Your kitchen use can be figured based on cooking and cleaning up for three meals each day for 2 hours, or 12.5%. Storage can mean clothes, kitchen items and other belongings. For storage, we'll assume a similar size as the bathroom or 6.25%. These figures can adjust up or down, depending on whether you work from home, enjoy a lot of cooking, or have guests.
Using these figures from a time usage perspective may emphasize bedroom size, but if you're asleep, perhaps you don't need as large a bedroom as the time allotment might indicate. You may opt to shift more emphasis on the great room or the kitchen area. No matter how your numbers work out, at least you'll have a framework for determining how big or small your living areas should be.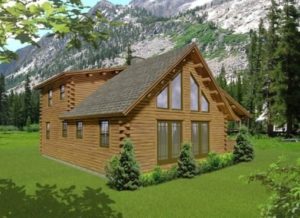 Getting the Biggest Bang for Your Log Home Budget
There are some great ways to save money on your structure to gain more space or the feeling of more space.
Expand down. One great way to enhance your smaller log home budget is to include a walkout basement. You'll need to site the home on a slope to take advantage of a walkout. Most every home needs a foundation and designing it as a walkout basement can double your living space immediately!
Expand up. Keep your footprint small and build up for more space. Your home will need a foundation or basement, and a roof. Adding a second floor is a very cost-effective way to add living area to a small footprint.
Add Outdoors Space. Adding a small porch, deck or patio can expand your living area and make your smaller home feel larger. Again, it comes down to less material to construct— and it's an economical way to add living area!
Cathedral Ceilings. The soaring spaces of Katahdin's distinctive purlin and truss roof design has some small space design benefits. Taller ceilings can make spaces feel larger. Cathedral ceilings also provide enough area for multi-use loft spaces. Lofts are great for hosting grandkids, office space or other uses.

The walkout Bradbury expands down to maximize a sloped lot.
Your Custom Design
No matter how big or small your Katahdin Cedar Log Home needs to be, the final design is in your hands! It can be an exact reproduction of one of the plans we have listed on our website, or you can use one of the plans as a jumping off point to create your own small log home concept. Either way, our in-house design team can work with you to design a small log home that works for your needs. Your Katahdin dealer also has some great ideas for making the most of a small floor plan. Some ideas include: tucking closets and storage spaces into areas under the stairs or in the knee walls of second-floor lofts or using built-ins instead of furniture for storing clothing.
Check out these plans on our website for great configurations under 2,000 sq. ft.: