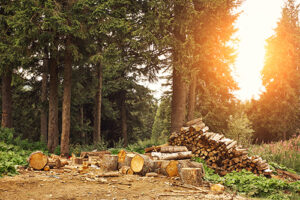 Post-pandemic supply chain issues have become a little better and many construction goods and raw materials seem to have rebounded from scarcity and high prices as the housing market cools down. One area of concern in Maine and other lumber producing regions is the diminishing capacity in the logging industry. As a result, wood-based products up and down the spectrum have felt the strain. We spoke with Dana Doran, Executive Director of the Professional Logging Contractors of Maine to learn more about logging in Maine.
What Does a Logging Professional Do?
Most folks don't have a good perception of logging as a profession. "Today's logging professional is a well-paid rural job that uses sophisticated mechanized equipment to harvest trees from the forests of Maine. Loggers operate a host of heavy machinery including feller bunchers, harvesters, grapple skidders, forwarders, and delimbers which are used to harvest more than 95% of all timber in Maine. Media salaries for logging pros is $52,000 and many earn as much as 30-40% more, based on skills. Even the truckers who transport logs from the logging sites to mills are a highly specialized group. Their trucks often have loaders and require a specialized skill set to move some of the heaviest loads. Logging trucks traverse unpaved logging roads to highways and finally to mills, including Katahdin Cedar Log Homes' three mill locations in Chester, Ashland and Oakfield, Me.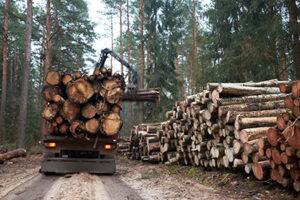 Housing Boom had Little Benefit for Loggers
Recently, the low housing inventory and explosive building market created inflated prices for construction. However, logging companies received little benefit from the rising costs of wood, construction materials and other wood products, as many operate from contractual pricing set years prior when log stock was more plentiful and less expensive. "Now with rising costs for fuel, insurance, parts, equipment and support services — in some cases, 40-50 % inflation — many of Maine's family-based generational logging businesses downsized or retired from the market," Doran said.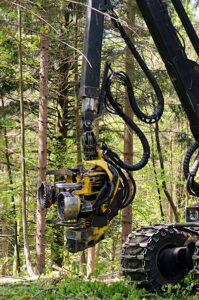 Training the New Generation of Loggers
Beginning in 2017, a 12-week Mechanized Logging Operations Program was started through Northern Maine Community College. This year, the sixth graduating class was honored in Summit Township where the program students were getting hands-on experience in the forest learning to use the latest equipment. Doran noted that there are five additional programs to train logging truckers to meet that increased demand.
New Wood Products
Maine is home to extensive research and development for wood products from TimberHP to engineered laminates, new products using wood from Maine forest continue to be developed. New producers are aware of the strains on the logging industry, and along with established companies like Katahdin Cedar Log Homes, they are working to support a sustainable forest industry and responsible timber harvesting. It's important to remember Katahdin Cedar Log Homes uses northern white cedar, one of the most sustainable species of wood harvested in Maine.
Logging as Part of Preserving the Environment
Responsible timber harvesting is all part of an overall program in Maine to create a sustainable forest and keep all the natural beauty available for generations to come. Cutting mature trees that have captured carbon opens up areas for new growth and new carbon capture to reduce greenhouse gases. Modern logging also keeps a forest healthy which in turn keeps the rivers, streams and ponds in good health as well.
These past few years have been challenging ones for many of us. The logging industry is a vital resource for Maine. Katahdin Cedar Log Homes continues to support expanding the logging workforce with training and incentives. As the economy recovers, we are hopeful that the supply chain issues affecting some sectors of housing will diminish as we move toward normalcy.