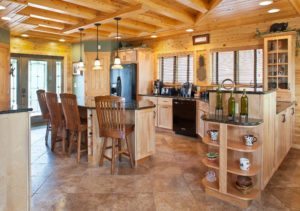 Once your Katahdin Cedar Log Home is enclosed, the work will begin on your home's interior systems for water, power, connectivity, heating and cooling. We checked in with long-time Katahdin Dealer Bill Ryan, of North Point Contracting, to get the skinny on inside work on plumbing, HVAC & electric.
Since each of these tasks will likely be completed by subcontractors, Ryan emphasized the challenge that many area contractors face with subcontractor availability. Each dealer or builder has a platoon of plumbing, HVAC & electric subs they rely on, often coordinating their work with care to perform as seamlessly as possible. This means getting materials onsite, having necessary prep work completed so other workers can proceed and thus ensuring that each step is completed the right way. "Where it can get tricky is when there are delays from weather—which experienced contractors include in planning," Ryan said. "Changing essential elements, such as plumbing fixture location, can wreak havoc on a building schedule, because of the demanding schedules for plumbers and electricians." His advice to clients is to keep to your original plans as much as possible!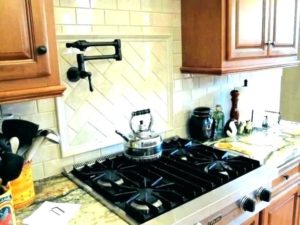 Plumbing
Ryan notes that using copper for plumbing is relatively rare in modern construction. Most plumbing specs are using flexible tubing such as Uponor for transporting water throughout your home. It's faster, often cheaper and performs as well as copper, Ryan notes. Some nontraditional locations that will likely need plumbing include:
The wall over the range for a pot filler tap
The center kitchen island location for dishwasher and sink
Pet cleaning station in mudroom or garage
On the subject of jacuzzi style tubs in the master bath, he recommends either a soaking only tub or an outdoor hot tub. Interior spa tubs can be problematic, and in reality, used infrequently. Opting for an outside spa can save money as well!
Electric Power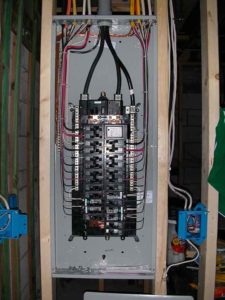 Your electricity can come from many sources, from your local utility, from the sun or the wind, or from a combination of these sources. If like most families you're relying on a traditional utility, you've already brought power lines to your home building site either overhead or underground. How your home gets wired for power will require a good deal of forethought in today's powered up lifestyle. In addition to extra convenience outlets and hardwired smoke detectors, you may want to consider emergency power access. If power outages are common in your area, hardwiring for a generator makes a good deal of sense, and it's easiest during construction. If you plan to tap into alternative energy sources like solar or wind, include those preparations with your electrician. Other power-related considerations include:
Car charging ports in the garage
Battery storage for solar or emergency energy
Location and wiring for generators, including propane tanks
Chases and wiring for solar photovoltaic arrays in the roof system
Wiring for charging drawers, electronic locks, security sensors, exterior lighting
Connectivity
Make sure your home is prepared for the coming generations of electronics—it's an excellent investment! Even if you don't plan on using smart appliances or home assistants, creating your own home connectivity can keep televisions, computers and internet connections fast, by allowing your Wi-Fi to drive handheld smart phones and laptops. We reviewed some of the options for wiring connectivity in this article. Be aware that your regular electrician may not be up to speed on broadband connectivity and may need direction from a computer expert.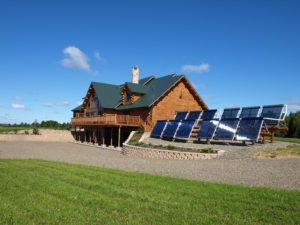 Heating & Cooling
For HVAC, Ryan prefers the efficiency and performance of mini-split heat pumps and has include those in plans for several recent Katahdin projects. If you're looking for a more integrated whole house HVAC system, combining a single heat pump system with efficient ventilation can reap savings and comfort. While heating with fuel oil or propane are always options, opting for a lower carbon footprint and high efficiency is the way of the future. Katahdin's Solar Ready program puts Katahdin customers in touch with solar power pros to develop integrated solar arrays with home HVAC to create an efficient, comfortable and healthy Katahdin Cedar Log Home for your family.